The Beauty of Nature's Glycans For Youthful Skin
Glycosaminoglycans  or "glycans" are large sugar-like molecules that plump and fill the skin when they bind with water molecules. As we age, they can become less effective and don't suck up water as efficiently. This decrease in water means that the skin becomes dull and dry. Recent advancements in the study of glycans (glycobiology) have allowed skin researchers to fully understand their function and therefore create glycan-based skincare products to combat the signs of ageing and to improve skin health.
 
Recent posts by Renée Leonard-Stainton
Conscious Beauty Edit for Plastic Free July
Over the past year and a half, I've been on... (read more)
Green Travel Tips - Your Guide to Eco-Friendly Travel
Thank you to New-Zealand based freelance... (read more)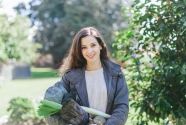 Wellness Influencer: Danijela Unkovich
I've always been impressed with nutritionist... (read more)
Basically glycans work like a courier service between cells, allowing targeted information to be transferred between them. In our skin, glycans aid communication between the layers of skin, prompting them to produce collagen which helps to keep the skin supple and smooth. However this communication can breakdown as we age and the glycans stop working as efficiently. Not only do glycans increase the production of collagen in the skin layers, they also act as transporters of other vital nutrients. Glycans facilitate a deeper level of nourishment, delivering vitamins, minerals and oils at a far deeper cellular level to vastly improve the skin's overall health and function.
Glycan skincare products  are designed to stimulate ageing glycans, helping to restore their former function. This means more collagen can be made, which helps to boost the elasticity of skin and push out wrinkles. Users often notice visible smoothing, fewer wrinkles and plumping of the skin and a younger and healthier appearance.
Large cosmetic companies such as L'Oréal have promoted glycans in their skin care brands as the "new generation of actives that could revolutionise the anti-ageing industry". While such brands often use synthetic glycans, there are a select few companies who are harnessing the powers of nature and bringing natural glycan skincare products to the market.
One such brand is New Zealand-based company Moana, with their range of products based on native New Zealand red seaweed. The range provides high levels of bio-available glycans thanks to the native seaweed, extracted from a specific variety found only in the oceans off New Zealand. Natural glycans are believed to have the potential to deliver far more potent results than the synthetic products currently on the shelf.
Natural marine glycans can help the skin by;      
Reducing the appearance of wrinkles
Increasing moisture and hydration
Giving the skin greater luminosity
Evening skin tone
Improving elasticity
Refining pore size
Live well, live long, live naturally
Renée x
While this article mentions two specific glycan skincare brands (L'Oreal and Moana), I have not been paid to do so. I love natural skincare products and have formed the opinions expressed above from my own experiences and research while using the mentioned products.