Benefits of Argan Oil for Hair
I was lucky enough to be sent Argan Oil from the lovely team at BioBalance and I've loved using it on my hair (a quick a heads up, you can win some on my Instagram page at the moment!) Argan oil is the natural oil extracted from the nuts of the native Moroccan Argan tree. From such humble beginnings, it's had a rapid rise to fame and is now being touted as a "miracle ingredient" by hair professionals and celebrities the world over. So is it all marketing gloss or is the hype justified? Take one look at the body of benefits below and it's a shining example of a truly remarkable natural hair product…
Recent posts by Renée Leonard-Stainton
Conscious Beauty Edit for Plastic Free July
Over the past year and a half, I've been on... (read more)
Green Travel Tips - Your Guide to Eco-Friendly Travel
Thank you to New-Zealand based freelance... (read more)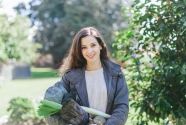 Wellness Influencer: Danijela Unkovich
I've always been impressed with nutritionist... (read more)
Deep conditioning is one of the most frequently praised properties of Argan oil, because it is generally believed to help restore health and shine to dry or damaged hair. It does this by instantly absorbing into hair to create exceptional shine, stunning smoothness, and lasting conditioning, without leaving any greasy residue.
Some of its qualities include:
Naturally rich in Vitamin E, F, A & C
High in Essential Fatty Acids Omega 6 and 9
Natural antioxidants - strengthen the hair by repairing the damaged cellular membrane of hair
Contains Squalene – a natural moisturiser
Paraben free
SLS and SLES free
Alcohol free
Benefits of Argan Oil:
• Encourages brilliant shine
• Helps achieve silky smoothness
• Eliminates frizz
• Hydrates hair
• Increases the life of color treated hair
• Deeply nourishes hair
• Reduces blow-drying time
• Repairs and strengthens
How to use it:
Applications of Argan oil are versatile, accommodating for a variety of lifestyles, hair types, and personal preferences. Some popular ways to use Argan oil for hair include lengthy deep-conditioning sessions, in-shower application, and topical use on damp or dry hair.
Overnight deep conditioning: For deep conditioning, apply the oil, wrap your hair in a clean, dry towel and leave the treatment in overnight. The increased length of time allows for the Argan oil to penetrate and nourish further. Just make sure you remember to cover your hair with a towel, so the oil doesn't transfer onto pillows or sheets!
In the shower: A less time-consuming option for using Argan oil for hair is to apply it during your morning shower. After shampooing hair, simply work some oil through your hair the same way you would with your regular conditioner. Thick, curly, or coarse hair can benefit from applying Argan oil to the whole head, while those with fine or thin hair should only apply from the middle of the length to the ends. Leave the oil in for a few minutes to absorb, and then rinse it out.
For styling: Argan oil for hair is a renowned styling and finishing product as well as a conditioner. Applying a small amount of oil to ends before heat styling can protect hair from drying out while taming 'fly-aways'. Similarly, smoothing a small amount of Argan oil onto hair after styling promotes a smooth, glossy, frizz-free finish.
Argan oil is a fine creation from Mother Nature. Its unique attributes are sure to see it staying firmly put in hair hall of fame for a long time to come. 
Live well, live long, live naturally
Renée
P. S The online health store, HealthPost, have BioBalance Argan Oil on sale at the moment!
Image from www.diamondherbs.co