BioBalance Herbal Detox Review
I've been growing and nourishing my two babies for close to 4 years now and while I always make daily investments into my wellbeing, my focus has naturally be on nurturing my babes. So, upon weaning my littlest, I decided to embark on a detox. I didn't necessarily feel 'toxic', but I did feel like I needed to draw a line in the sand and put my own health and wellness at the forefront. While I do believe our bodies have the inate ability to effectively detox themselves, by carving out a conscious space to make change  we really help to kickstart the process.  Of course, specifically chosen herbs and nutrients can greatly assist the body in this renewal phase! I chose to go with BioBalance's Herbal Detox Program, and can honestly say, it is the best detox I have been on to date. Why?
Recent posts by Renée Leonard-Stainton
Conscious Beauty Edit for Plastic Free July
Over the past year and a half, I've been on... (read more)
Green Travel Tips - Your Guide to Eco-Friendly Travel
Thank you to New-Zealand based freelance... (read more)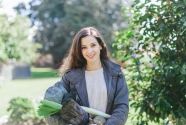 Wellness Influencer: Danijela Unkovich
I've always been impressed with nutritionist... (read more)
Well, firstly, the program brings you three distinct herbal blended in two stages. Stage One alkalizes tissues and initiates cleansing to gently prepare your body and minimise common symptoms and discomfort of an intensive detoxification process. To support this stage, I followed the recommended dietary guidelines which meant I was primarily eating plenty of organically grown and produced foods including; a variety of fresh fruit vegetables, all root vegetables (except potatoes), garlic & onions, seaweeds (kelp, wakame) nuts, seeds, extra virgin olive or coconut, goat or sheep feta and plain yoghurts. I avoided sugar, refined flours, food additives, highly processed foods, alcohol and caffeine (Surprisingly. my habitual morning black tea with Manuka was the hardest thing to give up of all!)
The first two days on the program seemed tough but for no other reason other than the knowledge that I couldn't grab a piece of that dark chocolate in the fridge, or pour a sneak glass of vino when a friend popped over. But, as soon as I got over the fact, I found the change in diet surprisingly easy! I mean, I eat like this about 80% of the time anyway, but I always, always have room for treats in my everyday life. Within a week on the program, I started to feel a lot more focused and calmer. By the second week, my energy had significantly lifted and family members had started commenting on how my skin was glowing.
Stage Two is crafted to support deep cleansing of toxins and pathogens from tissues. The formulations combine organic and wildcrafted medicinal herbs including New Zealand native plants. My energy and moods were a lot more stable by the time I embarked on stage two. I did have a few headaches during the third week, but I think it was just my body purging. I never once got any stomach cramps, diarrhea or any other untoward side-effects I have experienced with detoxes in the past. This is because the two stage process minimises the usual effects and discomfort of an intensive detoxification process.
By the end of my detox, the three most noticeable changes with me were evident by my increased energy levels, decreased stress and reduced bloating. I didn't notice it myself, but friends said my eyes were sparklier too! A lovely bonus to feeling great!
Would I do this particular detox again? For sure!  I'd love to give you the chance to try it too, so I have a giveaway that can win you and a friend a free BioBalance Herbal Detox Program. Detoxing together can give you that extra support you need. Head over to my Facebook page to enter.  
Live well, live long, live naturally
Renee x