Celebrity Nutrition Trends
Hearing the words "celebrity" and "diet" in the same sentence leaves you thinking the word "gimmick" can't be far behind. There's no wonder diet you can follow without some nutritional or health risk and most are offering a short-term fix to a long-term problem.  It may be obvious, but if you want to lose weight you need to eat a nutritionally balanced and varied diet with appropriately sized portions and burn off more calories than you consume. 
Recent posts by Renée Leonard-Stainton
Conscious Beauty Edit for Plastic Free July
Over the past year and a half, I've been on... (read more)
Green Travel Tips - Your Guide to Eco-Friendly Travel
Thank you to New-Zealand based freelance... (read more)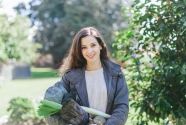 Wellness Influencer: Danijela Unkovich
I've always been impressed with nutritionist... (read more)
The Lemon Detox Diet
This hardcore weight-loss strategy involves drinking a mixture of water, maple syrup, lemon juice and cayenne pepper for around 10 days. No food is allowed. It's said to help release the body of poisonous toxins. On the detox, you don't eat food for a week to 10 days. It's a fast and can make people very sick. People feel absolutely awful and it's so unnecessary - it's dangerous to starve your body like that. Beyond anything else, your metabolism completely slows down. Poor concentration, failing digestive system and cravings are some of the possible side effects.
Alleged followers: Beyonce, Tania Zaetta, Ashanti
The Raw Food Diet
The fundamental premise of the raw food diet is to eat 75% uncooked food, because it's believed cooking destroys the enzymes that help with digestion. Foods include fruit, vegetables, seeds, legumes, dried fruits, nuts, seaweed and mineral water. Possible side effects could include nutrient deficiencies, general fatigue over time and osteoporosis.
Alleged followers: Demi Moore
The Zone Diet
The philosophy is that the body requires an optimum ratio of 40 % carbohydrates, 30% protein and 30% fats. This ratio is said to help followers to stay in a healthy weight zone, as determined by hormonal influences within their bodies. It's a relatively well-balanced eating plan that includes all the food groups, doesn't leave anything out, and in a very subtle and very clever way also helps us change the eating behaviors that caused us to gain weight in the first place. However, it is quite a strict, formula-based diet that a lot of people find hard to stick to. 
Alleged followers: Jennifer Aniston, Brad Pitt, Renee Zellweger.
The 5 Factor Diet
The "five" in the 5 Factor Diet comes not only from the number of elements each meal should include - protein, complex carbohydrates, fiber, fat, and fluids - but from the recommended five meals a day, with recipes that contain no more than five ingredients, or take no more than five minutes of prep time and five minutes of cooking time. There is also a five-day exercise plan, which - no surprise - consists of five exercises you do for 5 minutes each. And, there's a "cheat day" once a week, when you can eat anything you like. The basis of the 5 Factor Diet is the five daily meals, each a balanced mix of lean protein (like chicken, fish, or low-fat dairy); complex carbohydrates (like fruits and vegetables); fiber (like whole grains); healthy fats (like olive oil); and water. My opinion? There is no need for this 'five' of each thing rule, there is nothing magical about this number! This diet can lead to irrational or dangerous attitudes to food.
Alleged followers: Jessica Simpson, Alicia Keyes, Eva Mendez.
Dukan Diet

On the Dukan Diet you only eat lean protein, plus a small amount of oat bran each day, and drink  8 glasses of water a day in the first phase . In phase 2, you introduce vegetables back into your diet, but starchy ones such as potatoes and corn, aren't allowed. It's not until phase 3  that you're allowed to eat fruit, grains and dairy again. There's no mention of portion sizes which can be the downfall for manhy. In fact, Dr. Dukan tells you to eat as much protein as you like. And ultimately to lose weight you need to eat fewer calories than what you burn.
Alleged followers:  Gisele Bundchen and Jennifer Lopez among its celeb fans. Kate Middelton and her mother were rumored to use the Dukan Diet to slim down for the royal wedding.
This article is a summary of a casual and fun radio chat I had about celebrity diet trends. It is by no means intended to endorse any of these diets or provide an in-depth review of the diets. If you would like to try any of these diets, please do your own research and ideally, consult a health professional before making any considerable changes to your diet. 
Live well, live long, live naturally
Renée x