Ocean Health 'The Plastiki Expedition'
While I admit to having missed the boat with World Earth Day sailing past a few months back with no mention or action on my part, I've recently caught wind of 'The Plastiki expedition' – an eco journey on a mission to redefine our views on the use of plastic.
Recent posts by Renée Leonard-Stainton
Conscious Beauty Edit for Plastic Free July
Over the past year and a half, I've been on... (read more)
Green Travel Tips - Your Guide to Eco-Friendly Travel
Thank you to New-Zealand based freelance... (read more)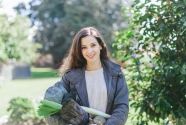 Wellness Influencer: Danijela Unkovich
I've always been impressed with nutritionist... (read more)
The Plastiki is an innovative 60 ft catamaran made from 12,000 used plastic bottles that account for 68% of the boat's buoancy. She was successfully launched in San Francisco and has graced the ocean for 4 months now, currently navigating the Pacific on the final leg of her journey en route to Sydney.
While the boat has 6 diverse crew members, the expedition has been nurtured from conception by British eco-adventurer, David de Rothschild. He has set out to not only inform, but captivate, activate and educate the world about the state of our oceans, and to demonstrate our ability to begin thinking of waste as a resource. "Our philosophy of throwing everything away has to change," says de Rothschild.
The title of the project refers to Thor Heyerdal's 'Kontiki Expedition' undertaken in 1947, which challenged existing assumptions about past civilisations. Similarly, it is intended that The Plastiki Expedition will change attitudes towards the world's oceans, the whole idea of waste and the reality of pollution.
In the South Pacific, we're blessed with relatively clean waters and a somewhat naïve view on the state of the world's oceans, yet it is staggering when you dive into the facts. It is estimated that almost all of the marine pollution in the world is comprised of plastic materials. Scientists estimate that every year at least 1 million seabirds and 100,000 marine mammals and sea turtles die when they ingest or become entangled in plastic pollution. Alarmingly, it takes about 450 years just for one plastic bottle to break down in the ground…Americans use 2.5 million plastic bottles every hour…
We often feel that with environmental issues being so colossal in their impact and magnitude, the effects of anything we do in terms of actually addressing the issue is but a drop in the ocean. So, what can we do as individuals? For starters, just bringing our personal awareness about how much plastic we use and dispose of on a daily basis should inspire action. From there, investigate ways to reuse and recycle plastic commodoties. I'm a big fan of water companies who are using biodegradeable resources such as plant fibres to make their water bottles (http://www.goodwater.org.nz/), or you could buy a reusable eco drink bottle (http://www.ecotanka.com) and save a little money while you're at it.
The Plastiki Expedition is making an impact and you can support the journey and the cause. Follow the Plastiki on their blog (http://www.theplastiki.com) and pledge your support. Change is on the horizon.