Ooooby - Local Food Made Easy
In an ideal world, I'd grow most of my desired organic produce in my own backyard and primarily shop locally for all of my other food basics. In reality, I just don't have the time or green thumb required to sustainably make this my grocery gig. Thankfully, I've recently discovered and started using the wonderful collaborative commons enterprise, Ooooby (Out of Our Own Backyards). Ooooby is a new way of shopping for food that passes savings directly onto the growers and customers, and cuts out the middleman. Through an online retail model, shoppers are able to buy direct from local growers and artisan producers. Find out more about how it works below, check out their F.A.Q page for more info, and if you're keen to get onboard for weekly deliveries, check out my promo code at the bottom of this post! 

 
Recent posts by Renée Leonard-Stainton
Conscious Beauty Edit for Plastic Free July
Over the past year and a half, I've been on... (read more)
Green Travel Tips - Your Guide to Eco-Friendly Travel
Thank you to New-Zealand based freelance... (read more)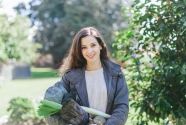 Wellness Influencer: Danijela Unkovich
I've always been impressed with nutritionist... (read more)
At their core, they strive to be sustainable, locally sourced and, where possible, organic. Oh, and did I mention, the whole system is extremely easy to use (hello regular doorstep grocery deliveries!)
'Out of Our Own Backyards' is all about supporting local growers and producers. Ooooby started with sourcing fresh produce from backyards and small farms, and in addition to that the intention has always been to source locally-made products.
Ooooby collects the produce for your order, packs it, and then delivers it to your door. Unlike a standard retail model, where growers only get 30% of the retail price, Ooooby pays growers a full 50%. And by contacting the producers regularly to let them know in advance how many boxes they need to fill, the model avoids the waste caused by food being stored and going to waste in the warehouse or the supermarket. Ooooby reinvests all of their profits into developing local food production, and ensure that all participants in the supply chain are rewarded fairly for their contribution.
You can chop and change your weekly orders to your hearts content. The produce is as local and organic as they can find. Obviously they can't always tick all of the 'organic' 'local' and 'sustainable' boxes, but they do their very best to try. The reason they can't guarantee your produce will always be local and organic is because there is simply not enough volume and variety of food that falls into such an ideal criteria... But they're working on that! Their aim is towards creating truly sustainable food systems globally (they've already launched in Australia and the US) and I love that the concept was conceived locally, in little ol' NZ! 
Ooooby hopes to one day be your complete, locally-sourced, supermarket alternative. Everything you need in your weekly groceries, except you know where it's from, who made it and where your dollar is going.
If you want to try this truly great service (with my promo discount!), you can do so by clicking on this link or visiting https://www.ooooby.org/signup  Just use the code YLXPGL and you'll get $20.00 off your first order!  Share the love, friends!