Renée Interviewed by Nature Baby on Being a Mum
Happy Mother's Day to all you Mummas & Mummas-to-be! I hope you've been gifted some beautiful 'you' time as well as delicious expressions of love throughout the day. Below I share a little chat I had with my favourite organic baby clothing and accessories store, Nature Baby, about what Mother's Day means to me...
Recent posts by Renée Leonard-Stainton
Conscious Beauty Edit for Plastic Free July
Over the past year and a half, I've been on... (read more)
Green Travel Tips - Your Guide to Eco-Friendly Travel
Thank you to New-Zealand based freelance... (read more)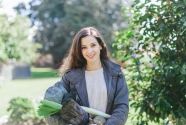 Wellness Influencer: Danijela Unkovich
I've always been impressed with nutritionist... (read more)
To celebrate Mothers Day, the lovely Renee from Renée Naturally gives us a look into motherhood with her beautiful son Arlo and shares what Mothers Day means to her. x
What is the best thing about being a Mum?
The fact that the immense love you feel when they are first born just keeps getting deeper and deeper day by day (and even, miraculously, night after long night!). Cuddles with a little being that you made are also next level and delicious!
What does Mothers Day mean for you?
Despite being a Mum myself now, I actually still see it as a day to celebrate my own Mum first and foremost! She's pretty amazing and a big inspiration to me as a Mum.
Best advice you were given by your Mum?
It wasn't direct advice as such, but Mum has a big heart and is always really open and friendly with absolutely everyone that she meets. I hope that through observation/default I have picked up this 'advice' over the years!
How will you spend this Mothers Day?
I'll be enjoying a low-key day with my husband James and one year old son Arlo and then we'll cook a big "We love you" dinner together at our place for both of our Mums and extended family. I also definitely won't say no to a little sleep-in first, a sunny day, gluten-free pancakes, and of course, a happy and healthy bubba dishing out loads of cuddles!
Ultimate tip for a new Mum?
Don't obsess over what the 'must-have' baby books or well-meaning friends and family tell you is the right way to do things. Your gut instinct is usually right and the less stressed about fitting into anyone else's parenting ideal that you are, the more you are able to tune in to your intuition. In my opinion, books are a great general guide but mother always knows best… Trust yourself!