Renée Interviewed by Our Grand Tour
"Renee is honesty to its core when it comes to parenting. As a Naturopath she knows what is best for her and her baby, but she also goes with the flow of parenting and the ups and downs that come along with it. With a newborn and a toddler, Renee has faced some great challenges, but is able to find balance and confidence as a mother." This interview originally featured on the wonderfully honest & realistic guide through motherhood, Our Grand Tour.
Recent posts by Renée Leonard-Stainton
Conscious Beauty Edit for Plastic Free July
Over the past year and a half, I've been on... (read more)
Green Travel Tips - Your Guide to Eco-Friendly Travel
Thank you to New-Zealand based freelance... (read more)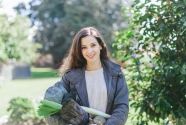 Wellness Influencer: Danijela Unkovich
I've always been impressed with nutritionist... (read more)
Describe your motherhood mantra?
I'm all about striving for balance, not perfection. I follow my kid's leads to establish their routines (not the books!), but try not to freak out if we mix it up now and then too. I feed my toddler super wholesome food the majority of the time, but delight in watching him enjoy cake and ice cream on occasion too. It's my priority to spend as much quality time with them both as possible, but I also think little bursts of time apart create confident and curious kids. It also sets the scene for a balanced Mumma!
Ultimately, I want my kids to grow up as balanced and wholesome individuals with a strong sense of self and big, generous, open hearts.
5 Things that will forever be changed once having a child?
Your hands - You hear most Mums talking about their boobs changing, but seriously I look down at my hands and feel like they've aged 10x faster than the rest of my body. Nappy changing and cleaning under the highchair 3x (plus!) a day are just the beginning of the thrashing your hands get!
Your conversations - I'd like to consider myself a pretty good listener, but when I've got two kids in tow, it seems I'm constantly juggling multiple conversations and scenarios at once and often feel bad that I'm not fully tuned in. Luckily other Mums tend to understand and we're all pretty good at jumping all over the show and coming back to the point even after taming a tantrum or tending to a poop mishap.
Your To-Do lists - They've always been there and they're way longer now but they somehow lose their importance. I used to get a little high from seeing everything methodically crossed off (or if I'm to be honest, highlighted 'off' so I could still marvel at all the tasks achieved). Now, I just tackle the ever-growing list when I can but if my family and clients have all their needs met by 9pm, I'm happy and done for the day!
Your world - The world around you, the way you see the world, the impact world events have on your heart, your place and purpose in the world. Your world opens up to experience new feelings, new thoughts, new sensations and yet concurrently your world all of a sudden becomes so focused in on the love you've created within your family unit.
Your relationships - You see sides of your partner you've never seen. Both good and bad. Having a child deepens the relationships that really matter in your world and you cherish them that much more.
The most honest conversation you would have with a new mother?
Like you would've heard time and time again, you'll instantly feel a love like no other. It's beyond beautiful. Yet what I was completely overwhelmed and flawed by was how powerful and vulnerable I felt immediately (and forever thereafter) after giving birth. Suddenly I had the power to help shape a life... I was giddy with love yet acutely aware of all the potential heartbreak one could suffer all at once. The only way I can maintain the balance between love and fear on a daily basis is to surround myself with positive people, remind myself that life is for living (and that means letting my kids be kids, tumbles and all). I would tell any new mother to be prepared to feel every emotion ten-fold to what you've ever experienced before. With love comes fear and you have to work at focusing on the good times instead of worrying about what you can't control. It's truly a wild trip being a parent, but if you work at tuning into daily positives, you can stomp down inevitable 'what ifs' and enjoy the precious, present moments.
Oh, and I would tell new Mums not to have any expectations on the 'type' of Mum they're going to be.  Be open to advice (you'll soon become an expert at filtering it), be open to change and be open to things not going to plan (be very, very open to this) but most importantly, be open to your intuition. It will serve you right time and time again.
Biggest myth since you became a mother?
That breastfeeding comes naturally to all Mums and their babes! I've found breastfeeding both of my babies to be the most challenging commitment I've ever endured. I don't even know where to begin with the troubles I've had both times and it gutted me that I couldn't just feed like other Mums without months of blood, sweat and tears. Yes, I'm a Naturopath and totally believe that breast is best, but you know what, *shock horror* I use FORMULA too and it SAVED ME. Without a bottle of formula here and there, I would've thrown it all in or eventually destroyed my own health and sanity. I resisted for so long the first time around (so stubborn and silly looking back) but it finally saved me from pumping yet another bottle of bloody milk or allowed my body a break from toe curling, full-body sweat inducing pain each feed could bring. You have to tune out from the pressure (sometimes self-induced) and tune into what is right for you.  The total pain of my breastfeeding journeys to date far surpassed that of the two drug-free labours I had! However, I can say it did come right the first time around and we're slowly getting there with my second. However a mother chooses to feed their baby, I wholeheartedly support and praise them. No option or choice is easy and you never know what someone has gone through to come to the decisions they have!
A parenting essential you can't live without? Materialistic or otherwise.
Toy cars. What is it with boys and cars from such a young age!? I have them tucked away all over the show ready to whip out whenever I need to turn a boring scene into an adventure land.
What has your child taught you so far?
Everything that matters.