Wellness Influencer Interview: Abbylee Bonny
Abbylee Bonny is one of those babes you meet whose energy is totally infectious. She's a high-vibin' yet totally down-to-earth yoga teacher, wellness retreat host, Mama to little Cassius Iluca & founder of The H & H LIFESTYLE. Meet the inspiring, Abbylee (and be prepared to start googling cheap flights to Bali!)...
Recent posts by Renée Leonard-Stainton
Conscious Beauty Edit for Plastic Free July
Over the past year and a half, I've been on... (read more)
Green Travel Tips - Your Guide to Eco-Friendly Travel
Thank you to New-Zealand based freelance... (read more)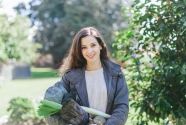 Wellness Influencer: Danijela Unkovich
I've always been impressed with nutritionist... (read more)
Please tell us a little about your business, yourself and how you got to where you are now in the wellness industry…
First and foremost I'm a Mama to my little prince, Cassius Iluca, he's nearly three! My business baby is H + H LIFESTYLE, the H's stand for health and happiness, the two things, aside from love, that I value the most. The idea behind the H + H LIFESTYLE is celebrating that a life of health and happiness is going to look a little different to each of us.  How I move my body, eat and my positivity practices might not be the same as yours but I do believe there are several pillars that create a fulfilling life you love full of health and happiness.  The philosophy is based on daily body movement, whole foods, gratitude, mindfulness, connection, community, contribution and self-care. I use social media and my website to connect with my Babes in my community and also I host wellness retreats, both in New Zealand and Bali to nourish our H + H community!
What does 'living naturally' mean to you?
Living naturally for me means, living, buying and using in a conscious way.  A way that has positive intentions for myself, others and mother earth.  Having awareness of what I'm fuelling my body with, the products I'm using on my skin and in my home.
What does a typical day in the wellness world look like for you?
Right now I'm living in Bali for three months.  I've been doing this for the last three years and I always look forward to it. I love coming here and slipping into island life. I wake with the baby around 6am, we have a slow morning making him breakfast and playing. Then it's out to drop off Cas to his little Bali school here, he loves it!  I'll head to a cafe and do a little work or straight to yoga at The Practice, Barre at The Canggu Studio or a workout at the gym. After my class, I'll take a walk on the beach or head for brunch.  I pick Cas up by 12.30pm and he might have a nap while I do some work or lounge by the pool while listening to Tony Robbins or the likes. The whole point of Bali is practicing relaxing, which might sound a little silly but for me slowing down really is a practice, I'm good with the go,go,go so taking time for myself and working out in the internal gym is just as important as heading to physical gym. Afternoons are spent at the beach or The Lawn Canggu, then I love a good salad bowl from The Shady Shack or Nude for dinner. Some days we'll catch sunset down at the beach or sitting on the edge of the rice paddies.  Bed is around 8pm - I have this philosophy that I love in Bali, rise by the sun, rest by the moon.
What are your top 3 tips for staying fit and healthy?
1. Daily Body Movement, whatever suits you best! Yoga, GRIT, beach walks or pilates, it doesn't matter just get that beautiful body moving! This is my absolute #1 non-negotiable for health + happiness. When I don't move my body everything else tends to go out the window! I really read my body and what I need each day too, if I had planned to go to the gym and lift heavy but wake not feeling it I'll go to yoga instead.
2. Fueling my body with nourishing whole foods and plenty of water!
3. Practicing gratitude on the daily, it can be easy to get caught up in comparison, of wanting or needing more but when we practice gratitude it makes what we have more than enough! Gratitude is the antidote to life!
In a nutshell, what's your food philosophy?
I eat what I feel like, what makes me feel energetic and satisfied. Mostly plants, little gluten/sugar and dairy! I say "little" rather than no because I might sometimes have these and I find with a history of restrictive eating when I say "I can not eat such and such" an unhealthy obsession is created. I've been there done that with so many different ways of eating and now I really don't have a label. If I'm ever unsure I come back to my H + H LIFESTYLE and ask myself, will I feel health? Will I feel happy? Sometimes that's going to mean eating burgers and having a wine with my babes and other times (most the time) it means eating all the greens.
What do you do to 'reset' the balance button when life gets a bit hectic?
I come to Bali! When I can at least. If I'm back home and need a reset I make sure I'm moving my body, taking time for myself and getting out into nature. I find a trip to the beach or walk in the bush is fab for grounding, resetting and putting things back into perspective.
We're all about balance around here…What's your biggest indulgence?
My biggest indulgence is probably chips/potato in any form! I love a good hash brown with my breakfast and one of my fav meals is actually a massive green salad with smashed rosemary spuds! Yum! I'm much more of a chip/bread dipped in olive oil girl than a sweet/chocolate babe.
What healthy snacks might we find on your desk or in your handbag?
I really don't carry snacks. I find that if I do, I eat them when it's not really needed. I don't make bliss balls or muesli bars because I'll see it and eat it. If I was to snack at home though I love a good rice cracker with avo and sauerkraut or carrots dipped in almond butter.
Can you share with us your top two pieces of advice for people wanting to start a career in the wellness industry?
1. Know your "why", what's your reasoning what's your mission? This is your drive, it will also tell you if it's the in alignment with you and what you really want to be doing.
2. Be yourself, the wellness industry seems to be hot topic at the moment, so I think it's super important to have your own voice, your own style, personal story and to share that.
Do you have a favourite affirmation or quote you remind yourself of when life throws you a few challenges?
My Mama Mantra which can really be translated to all aspects of life!
Breathe.
Choose kissing.
I am enough.
What are your goals and aspirations for the coming year?
I'd actually really love to fall pregnant, to have another baby. My goal is to maintain health and happiness for myself, my family and my business. To have a lovely ebb and flow balance with growing my family and my business. 
Thank you so much for sharing, Abbylee! I'm so in love with your Mama Mantra! x
You can connect with Abbylee below...
Website - www.thehhlifestyle.co 
Facebook - @thehhlifestyle
Instagram - @abbeyleebonny and @thehhlifestyle