Wellness Influencer Interview: Alison Morgan
"I wake up early every morning (I've always been an early riser)! Each day involves meditation, yoga, work eating healthy non-processed foods.  My days are really busy and quite hectic, but that's fine.  Approaching each day with meditation helps me cope with the many things going on each day!"

 
Recent posts by Renée Leonard-Stainton
Conscious Beauty Edit for Plastic Free July
Over the past year and a half, I've been on... (read more)
Green Travel Tips - Your Guide to Eco-Friendly Travel
Thank you to New-Zealand based freelance... (read more)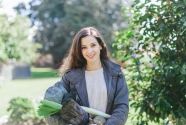 Wellness Influencer: Danijela Unkovich
I've always been impressed with nutritionist... (read more)
NAME:  Alison Morgan
OCCUPATION:  Director of Relauncher; an online destination for natural beauty, health & wellbeing www.relauncher.com.au
Please tell us a little about your business, yourself and how you got to where you are now in the wellness industry…
Relauncher is a go-to destination for products and services relating to natural health, beauty & wellbeing. There's an online shop, industry directory, blog plus I run a variety of workshops & events. I have a degree in Marketing and have worked for blue-chip companies around Australia as well as London.   After having 2 children close together, I decided to start my own business rather than head back into the corporate world.  It's the best decision I've ever made!
What does 'living naturally' mean to you?
Living naturally is simply a healthy way of living.  Removing toxins from our homes and environments means our bodies can begin to detox in a more natural state on a daily basis.
What are your top 3 tips for staying fit and healthy?
Balance & moderation is key
Daily exercise and movement
Eating like our grandparents did
In a nutshell, what's your food philosophy?
I've cut out processed foods, refined sugars and gluten.  I don't have any intolerances, although I feel so much healthier eating this way!  I highly recommend giving it a try!
What do you do to 'reset' the balance button when life gets a bit hectic?
Meditation is what really works for me.  I can't recommend it enough.  Every day is hectic, so daily meditation is key.  Even if it's just 10 minutes – our bodies and brains need it!
We're all about balance around here…What's your biggest indulgence?
I love a vodka on the rocks with a juice from a full lemon.  It's my weekend treat that I really enjoy!!!
What healthy snacks might we find on your desk or in your handbag?
Nuts – I love them!
Can you share with us your top two pieces of advice for people wanting to start a career in the wellness industry?
Get on social media. It's a great way to connect with others, become motivated & gain an insight into what's happening in the industry. Attending workshops and events is also really beneficial.  The workshops provide solid information from experts, and also allows you to meet other like-minded people.
Do you have a favourite affirmation or quote you remind yourself of when life throws you a few challenges?
"There's something to be learned from this."
Thank you Alison! x 
Relauncher.com.au
Facebook.com/relauncher
Twitter.com/relauncher
Instagram.com/relauncher_alison