Wellness Influencer Interview: Amy Landry
Amy Landry is an Australian Yoga Teacher, who was awakened to the path of Yoga in 2006, whilst working internationally as a professional dancer. With her background in dance and personal training, Amy's yoga classes have a strong alignment focus, blended with fluidity and philosophy, to offer a balancing vinyasa practice. She also inspires an international community of wellness warriors via her popular social media pages. Meet this humble and dedicated being..
Recent posts by Renée Leonard-Stainton
Conscious Beauty Edit for Plastic Free July
Over the past year and a half, I've been on... (read more)
Green Travel Tips - Your Guide to Eco-Friendly Travel
Thank you to New-Zealand based freelance... (read more)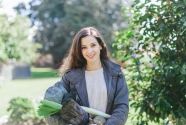 Wellness Influencer: Danijela Unkovich
I've always been impressed with nutritionist... (read more)
NAME: Amy Landry
OCCUPATION: Yoga Teacher and Student of Ayurveda
Please tell us a little about your business, yourself and how you got to where you are now in the wellness industry…
I've always been interested in health, movement, creativity, and the body. Due to my background in dance it only seemed natural to evolve into a passion for yoga, Ayurveda, and general wellness. I am a full time Yoga Teacher, and am studying Ayurveda, to become certified as a consultant and therapist in 2014. Yoga and Ayurveda are ancient sister sciences from India, and are therefore highly complementary.
What does 'living naturally' mean to you?
Living naturally means to live with the cycles of day to day life, according to nature - the sun, the moon, and the seasons. This is the Ayurvedic philosophy in general. Aligning with the 5 elements is a huge part of this also. Living naturally, to me, is eating a vegetarian diet, practicing yoga, and being as environmentally aware as possible - in a nutshell!
What does a typical day in the wellness world look like for you?
There really isn't a typical day in the life of a full time Yoga Teacher. Most mornings I'm up anywhere between 5:15am and 6:15am. I'm in bed around 10pm. I teach between 3 to 6 classes per day. I study Ayurveda and Sanskrit in my spare moments. I aim to do a yoga self practice as often as possible, and occasionally get on the mat at one of my local studios. I squeeze some reading into my day. I love to buy and create yummy food. I sip tea frequently. I respond to emails, messages, and comments via the online world. In between all of this, a few cuddles with my husband!
What are your top 3 tips for staying fit and healthy?
1.     Breathe more consciously, regularly.
2.     Do yoga.
3.     Eat and exercise according to the season.
4.     Wake up by sunrise, go to bed by 10pm - lights out, phone off
In a nutshell, what's your food philosophy?
Eat seasonally. Eat fresh. Cook fresh (don't reheat or eat old stale food). Use spices. Always eat a meal that provides all six tastes. Eat local foods where possible. Eat organic where affordable. Eat lots of vegetables, lentils, and whole grains. Avoid food which contains preservatives.
What do you do to 'reset' the balance button when life gets a bit hectic?
Allow myself a nap. Walk along the beach. Disconnect from cyber space. Burn incense. Take a bath. Find a time and space to be silent and still.
We're all about balance around here… What's your biggest indulgence?
I could indulge daily in a meal consisting of a variety of local, organic, and fresh cheeses, with some deliciously authentic sourdough bread, olives, and (preservative free and organic) red wine.. then finishing of with some dark chocolate. Now I know this may not seem to some like an indulgence, but to me it really is.
Although, I do love a big bowl of housemade full fat icecream with chai spices on the rare occasion. So delicious!
What healthy snacks might we find on your desk or in your handbag?
Blanched, lightly roasted, unsalted almonds.
Dates with cacao beans.
Herbal tea.
Avocado.
Can you share with us your top two pieces of advice for people wanting to start a career in the wellness industry?
There are a lot of people out there doing the exact same thing that you dream of doing. Find your niche. Find or create something unique about yourself, and be truly passionate about it. Don't do the course/study/workshop/presentation that everyone else is doing. Stand out. Be fearless. Don't try to be 'popular'. Be your unique self. Secondly, don't rush the process. Your ideas will change. Your business will change. YOU will change. And, importantly, the people around you will potentially change as well. Trust your gut, slow down, and enjoy the journey.
Do you have a favourite affirmation or quote you remind yourself of when life throws you a few challenges?
A life lived by choice is a life of conscious action.
A life lived by chance is a life lived by unconscious reaction.
- Neale Donald Walsch
Thank you Amy - you're such an inspiration! Friends - you must check out Amy's instagram page - it's amazing! x
Website http://amyelandry.com/
Facebook https://www.facebook.com/amyelandry
Twitter https://twitter.com/amyelandry
Instagram  @amyelandry