Wellness Influencer Interview: Anna Baird
"Think about where your food came from. If it is heavily processed or artificially produced then our bodies are probably not designed to consume it! I believe that everyone should read David Servan-Schreiber's book Anticanter: A new way of life. It has opened my eyes and made me think about food in a completely different way."
Recent posts by Renée Leonard-Stainton
Conscious Beauty Edit for Plastic Free July
Over the past year and a half, I've been on... (read more)
Green Travel Tips - Your Guide to Eco-Friendly Travel
Thank you to New-Zealand based freelance... (read more)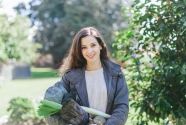 Wellness Influencer: Danijela Unkovich
I've always been impressed with nutritionist... (read more)
NAME: Anna Baird
OCCUPATION: Podiatrist and owner and designer of Bared Footwear
Please tell us a little about your business, yourself and how you got to where you are now in the wellness industry…
Bared Footwear was born out of a frustration at not being able to find shoes that I could recommend to my fashionable female patients. It took three years of development before I opened my a little shop in Toorak in 2008. We have now just moved for the 3rd time in the past 5 years into a gorgeous new store in High Street Armadale. The brand ethos is to create gorgeous shoes that offer great foot support and allow women to work, live and travel in style and comfort.
I have also had 2 beautiful children in the past 4 years who are a constant reminder of what life is really about.
What does 'living naturally' mean to you? 
Living naturally to me means eating fresh whole foods and getting fresh air.
What does a typical day in the wellness world look like for you?
My typical day is a mix of time with my kids, time talking to women about their feet and shoe requirements, time developing shoes and time marketing my business.  I seem to literally run all day. I can't see why you would walk anywhere when you get everywhere so much faster by running. The guy that works at the coffee shop opposite our store is often laughing at me running even on the morning coffee run.
What are your top 3 tips for staying fit and healthy?
Run instead of walk, then you can eat as much good food as you like without ever worrying about your weight
Wear comfortable shoes that look great (they will allow you to run)
Sleep
What do you do to 'reset' the balance button when life gets a bit hectic?
My husband and I are both lucky to have our parents living in the country so we head off for a few days with the kids in the country. I am really not a city girl at heart and I love nothing more than the smell of freshly cut grass.
We're all about balance around here…What's your biggest indulgence?
Red wine and dark chocolate
What healthy snacks might we find on your desk or in your handbag?
I really don't snack during a work day but I do love organic popcorn.
Can you share with us your top two pieces of advice for people wanting to start a career in the wellness industry?
Be an expert in your field and be generous in your advice and offerings. Try and inspire people it is the best gift that you can give someone.
Do you have a favourite affirmation or quote you remind yourself of when life throws you a few challenges?
I really do live by Henry Fords words "If you think that you can do a thing or think you can't do a thing, you're right"
What are your goals and aspirations for the coming year?
We have our first men's range arriving in the next few weeks which I am really excited about. It will be a new challenge marketing to men. Personally my goal is to work a little less so that I can exercise more without spending more time away from my kids.
Thank you  for letting us step into your wellness world for a moment Anna! x