Wellness Influencer Interview: Ashley Hunt
Ashley & I met for a juice date on her recent visit to NZ & I left with a total calm-crush on this lady. She embodies what she practices as a mindfulness & meditation teacher but she's totally non-preachy, real & fun (she loves wine, travel, adventure + coffee) While in her presence it's hard to believe that laid-back zen hasn't always been her thing but as she shares in the interview, she's been on a massive ride to get there. The diagnosis in her 20's of the extremely debilitating & painful condition Rheumatoid Arthritis really cemented her mission to share the benefits of meditation & mindfulness with as many people as possible. While she's currently based in London, her practical & accessible style can be enjoyed by all of us thanks to her online guided sessions & free Sunday Instagram live sessions! 
Recent posts by Renée Leonard-Stainton
Conscious Beauty Edit for Plastic Free July
Over the past year and a half, I've been on... (read more)
Green Travel Tips - Your Guide to Eco-Friendly Travel
Thank you to New-Zealand based freelance... (read more)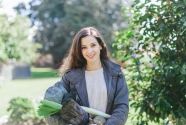 Wellness Influencer: Danijela Unkovich
I've always been impressed with nutritionist... (read more)
Please tell us a little about your business, yourself and how you got to where you are now in the wellness industry…
I was lazy and overweight in my early 20's so if you told me then that I would one day be working to improve people's health I would have laughed. As a fresh-faced university graduate I was determined to save the world. I had a vision of someday working in international aid and development, however, I quickly became frustrated and disenchanted with an industry where people spent most of their time working around red tape, constantly being dictated by higher authorities, unable to make any positive progress. It forced me to re-think my career goals. All I knew was I needed to do something meaningful and I wanted to make a difference in people's lives. At the time I had recently discovered exercise (yes, I was pretty late to the game). I was never an athletic person (read: I was a couch potato) so always just assumed exercise wasn't for me. But with a friends encouragement I began working out and to my surprise I loved it! When I started to realise how much more confident and happier I felt I became hooked! I knew I had to share this with other people who'd been in the same situation as me. So, I did something drastic. I dropped out of my masters and enrolled into a personal training course.  As a trainer, I always had a holistic approach, using wellness coaching and meditation with all my clients. I slowly began to realise that these were the most beneficial aspects of my service so I started focusing on them more and more. Then, out of nowhere, I developed Rheumatoid Arthritis. Within a couple of months I had pain in my entire body and was unable to do normal everyday tasks such as dress myself or cut my food. It was a huge adjustment and the most difficult time of my life. My meditation practice kept me sane and was the only reason I was able to get through it and stay positive. I realised how important meditation was and vowed it would become my mission to share mindfulness with as many people as possible. Meditation has been my focus ever since and making the shift has felt so right for me. I love what I do and realise that every struggle I endured brought me to where I am today, and this is exactly where I am supposed to be. 
What does 'living naturally' mean to you?
To me, living naturally is about getting back to basics. Our modern lives are more complicated than ever, it's no wonder so many of us are stressed, anxious and sick. It means being mindful of how you are choosing to spend your time. Start to strip things back and stick to the essentials. Less time on your phone, more time with your loved ones.
What does a typical day in the wellness world look like for you?
Every day is different and I move around a lot living between London, Sydney and Auckland.  At the moment I am working on an online course so I am spending a lot of time on that. I am my most productive in the morning so I try to get as much as I can done first thing. I wake up early, at around 6am, and start working straight away. I'll usually work til 8am and then I'll make myself a smoothie. I get back to work for a couple of hours, then break it up with a stretch or workout, then meditation. After lunch I often have a corporate client, then in the evening I might have a one-on-one Skype session or be teaching a class. I'm not a fan of the hustle and always make sure I have plenty of time to do the things I love, such as reading, cooking, spending time with friends or travelling. It's always been important to me to be in control of my own time, so if it is a beautiful day I love being able to take the afternoon off and spend time in the sunshine!
What are your top 3 tips for staying fit and healthy?
Slow down.
Breathe.
Be kind to yourself.
In a nutshell, what's your food philosophy?
My food philosophy has changed pretty drastically over the past 6 months. I used to preach balance and my motto was "everything in moderation". However, due to difficulties with side effects of my RA medication, I have made some pretty extreme changes to my diet. I no longer eat meat or dairy, and consume only the tiniest amounts of sugar, caffeine and alcohol. It's not always been easy, but the impact it has had on my pain and inflammation has been incredible so it is well worth it.
What do you do to 'reset' the balance button when life gets a bit hectic?
I'm obsessed with the healing powers of nature and am a regular "forest bather" (a Japanese term for immersing yourself in nature). Whenever I find I'm lacking in energy, my mood is low or I'm feeling overwhelmed, going somewhere naturally beautiful picks me up instantly. Living in London, I have to really go out of my way to make it happen, but a drive to the countryside or even just a walk through the park has a surprising effect.
We're all about balance around here…What's your biggest indulgence?
Wine!
What healthy snacks might we find on your desk or in your handbag?
My fave snack right now is Poppy & Olive Almond Butter and banana on Venerdi paleo toast with a sprinkle of cinnamon.
Can you share with us your top two pieces of advice for people wanting to start a career in the wellness industry?
Be authentic. Make sure you are not only clear on what you want to do but why you want to do it. How are you going to make an impact on people's lives for the better? Don't underestimate your ability to have a positive impact in someone's life.
Be open. I spent a long time hiding myself as I never wanted to make it about me, I wanted the focus to always be on my clients. But I realised I needed to open up first if I was to expect my clients to open up to me. Don't be afraid to tell your story, as that's how people are going to be able to connect with you, and connection is the most important thing.
Do you have a favourite affirmation or quote you remind yourself of when life throws you a few challenges?
"If you think you are too small to make an impact, try sleeping with a mosquito." - The Dalai Lama
What are your goals and aspirations for the coming year?
Professionally, I'm hoping to soon finish my online course so that I can provide an affordable and convenient way to help as many people as possible learn to meditate. I also have some exciting events coming up, as well as retreats in Italy, Bali and Byron Bay (more details tbc).
Personally, this year is all about getting back to basics for me. I'm hoping to spend less time in London and more time in New Zealand. I've loved my time in London but now I'm looking for a slower pace and simpler lifestyle. My body is craving the ocean. So, you can expect me back that way in the Springtime!
Thank you so much, Ashley! x You can connect with Ashley below...
Website: www.ashleyhuntwellness.com
Facebook @ashleyhuntwellness
Instagram @ashleyhuntwellness