Wellness Influencer Interview: Cassie Mendoza-Jones
Cassie Mendoza-Jones is a kinesiologist, naturopath, writer and author-to-be, with her book (Hay House) due for release in 2016. She's also the founder of the Heartfelt Harmony Society, a collection of online courses and guides to support women in finding freedom and harmony in all areas of their lives. She works with women who feel stuck, unworthy and disconnected to themselves. She shows them how to increase their self-care, self-worth and self-acceptance on every level, while making it all feel like it's the most natural thing in the world. 
Recent posts by Renée Leonard-Stainton
Conscious Beauty Edit for Plastic Free July
Over the past year and a half, I've been on... (read more)
Green Travel Tips - Your Guide to Eco-Friendly Travel
Thank you to New-Zealand based freelance... (read more)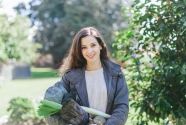 Wellness Influencer: Danijela Unkovich
I've always been impressed with nutritionist... (read more)
Please tell us a little about your business, yourself and how you got to where you are now in the wellness industry…
I founded my business back in 2011. I'm an author, kinesiologist, naturopath, nutritionist and herbalist. I see clients privately in-person and worldwide via Skype. I run online programs and courses; my Cleansed eCourse (to help you shift and release what's holding you back), and my Heartfelt Harmony Society (a selection of lifestyle and business courses and guides to help you live in freedom and harmony, every single day). I also speak at events, and contribute to a lot of media publications. Before this, I was a makeup artist in the beauty and fashion industry for years. I loved that career for so long, but I'd always been interested in health and wellness, and I'm so glad I listened to my intuition and shifted careers. I've worked really hard at my business, andabsolutely love it.
What does 'living naturally' mean to you?
To me, living naturally means living in balance, alignment and flow, working with what you have, accepting the flow of life and releasing what's holding you back.
What does a typical day in the wellness world look like for you?
I'd start each day with exercise (yoga, barre, strength class or a walk), then I'll usually write for an hour or two at my favourite café with a good coffee. I see private clients a few days per week, usually in the afternoons. In between I'll usually be working on something that's coming up; at the moment, that's my book, You Are Enough, being published with Hay House 1st April 2016. It's really my main focus at the moment, which is so exciting. My book is for you if you think you've never done enough, if you always give yourself a hard time about not being where you think you 'should' be, if you always compare yourself to others and if you push yourself to your limits, chasing self-worth, perfectionism and achievements. I'll also always make time to do something that's just for me; meditate, journal, do a little kinesiology balance on myself, or something else that helps me feel connected and grounded. I usually end the working day at around 6:30pm and then my amazing hubby is the one who usually cooks dinner. Although, I help...!
What are your top 3 tips for staying fit and healthy?
I truly believe we have to find what works for us—there's so much information out there and it doesn't suit everyone. Nothing suits everyone. So my first tip is to find what works for you, and honour this. Secondly, I believe we must create space for ourselves to reconnect—we can't give of ourselves everyday without giving back to ourselves. This could be yoga, meditation, journaling, stillness, whatever works for you. Thirdly of course, healthy food and movement (two tips in one!).
In a nutshell, what's your food philosophy?
I really don't follow a specific diet; I eat what feels good to me, and listen to my body.
What do you do to 'reset' the balance button when life gets a bit hectic?
I love creating some space in my calendar that's just for me; I might spend the morning at a yoga class, grab a coffee and head home to do some writing or journaling, read on my bed for a little while, spend time with my hubby, family and friends, or just do something out of the ordinary routine. To me, it always comes down to rest and self-care, sans guilt.
We're all about balance around here… What's your biggest indulgence?
I love a good glass of red wine on the weekend. And lately, my hubby and I are loving Grill'd Burgers – those paleo buns and sweet potato chips make for an amazingly delicious and chilled date night!
What healthy snacks might we find on your desk or in your handbag?
If I'm travelling, I'll go for biltong (going back to my South African roots!), or if I'm at home it might be some fruit with natural yoghurt, natural peanut butter, or avocado, or hummous on some corn thins, or a green juice with some nuts on the side.
Can you share with us your top two pieces of advice for people wanting to start a career in the wellness industry?
Don't worry when people tell you the industry is crowded; there's always room at the top! And find something you're truly passionate about, not something you think others will love. You have to love it, first.
Do you have a favourite affirmation or quote you remind yourself of when life throws you a few challenges?
I've had the same favourite quote for about 15 years (since my MySpace days!). It's by the late Wayne Dyer: Everything is perfect in the universe, even your desire to improve it.
What are your goals and aspirations for the coming year?
My main focus at the moment is my book, You Are Enough (Hay House), which is so exciting. I absolutely can't wait for the launch! I'm enjoying a different pace of working this year; for the first time in a couple years I have very little planned for the rest of the year. Of course there's my book launch, which is really the main thing—I'm happy to see where that takes me! I'm also celebrating my 30th birthday and my sister's wedding, which is so exciting. I'd love tospend some more time in Byron Bay, and travel to New Zealand for the first time. And who knows, perhaps I'll start my second book!
Facebook: www.facebook.com/elevate.vitality
Instagram: www.instagram.com/cassiemendozajones/
Pinterest: www.pinterest.com/cmendozajones/
Twitter: www.twitter.com/cmendozajones