Wellness Influencer Interview: Claire Robbie
Claire and I first met in drama school in our teens when we were both cast in an 18th-century play where we donned Victorian attire & gave cockney accents our best shot. Fast forward and she's now keeping it real in her multiple roles as a yoga & meditation teacher, surf + yoga retreat director, and founder of No Beers? Who Cares! Cor blimey, she's one inspiring Mama! Meet Claire...
Recent posts by Renée Leonard-Stainton
Conscious Beauty Edit for Plastic Free July
Over the past year and a half, I've been on... (read more)
Green Travel Tips - Your Guide to Eco-Friendly Travel
Thank you to New-Zealand based freelance... (read more)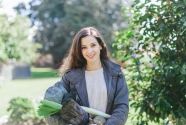 Wellness Influencer: Danijela Unkovich
I've always been impressed with nutritionist... (read more)
Please tell us a little about your business, yourself and how you got to where you are
I'm a meditation and yoga teacher, run a surf & yoga retreat company called Jack & Olive Retreats and the founder of No Beers? Who Cares! a mindful drinking initiative aimed at unlocking human potential by shifting attitudes towards how and why we drink.
What does 'living naturally' mean to you?
It means living from a place of presence and letting my heart and intuition be my guide – rather than my mind. And it's been a really amazing process getting to this place. It means balance and honesty and keeping things as simple as possible, even though life is wonderfully full.
What does a typical day in the wellness world look like for you?
I meditate as soon as I wake up, try and spend some quality breakfast time with my son before Kindy – depends on his threenager mood (toddlers eeeek) then get to the gym or a yoga class. This winter I'm really into hot yoga as it's so cozy inside the studio. Throughout the day I work from home, teach or do a lot of speaking at companies on how to incorporate mindfulness and meditation into the workplace and relationships. In the afternoon I also meditate again and then it's the evening ritual with my son.
What are your top 3 tips for staying fit and healthy?
Moving every day, no excuses – yoga, going to the gym or a run; eating as clean as I can and trying to get as many greens into my diet as possible. But the key for me is meditation – there is no better way to de-stress the body and mind. Also, 20 minutes of meditation is equivalent to 3 hours of deep rest. So it's an absolutely crucial way to keep on top of my health. It also gives you extremely good powers of discrimination so it becomes clearer what is important and a priority and what isn't.
In a nutshell, what's your food philosophy?
I think it's really important to be aware of when we're emotionally eating – so eating when we're bored, tired, angry or making choices that aren't great for us because we're not feeling good within ourselves. I'm not a vegetarian or gluten-free or anything like that, I kind of listen to my body and eat what I feel I need at that time. I know the foods that make me feel really good and then ones that don't and I stick to that.
What do you do to 'reset' the balance button when life gets a bit hectic?
Meditation has been a game changer for me. I've had a strong practice for a couple of years but in the past 8 months have 100% committed to practising twice a day. It's been more transformative and rejuvenating than anything I've ever done and the best part os that the technique I practice can be done anytime, anywhere – even with a toddler sitting next to you!! It's actually really hard to burn out or overdo things when you're checking in on yourself twice a day.
We're all about balance around here…What's your biggest indulgence?
I drink a bit more coffee than I probably should and have a pretty strong 'thing' for licorice. My real indulgences are that I try to get to do yoga/the gym/a run twice a day– which I can do as I'm self-employed. I always feel super lucky as for a working single Mum these are often the first things to go, the fact that I can do this sometimes feels very indulgent.
What healthy snacks might we find on your desk or in your handbag?
I'm seriously not big on snacking. I eat three meals a day and don't really worry about food in between, but if I was super hungry I'd eat some fruit and bang some peanut butter on it.
Can you share with us your top two pieces of advice for people wanting to start a career in the wellness industry?
Being self-employed isn't for the faint-hearted and generally, most wellness industry work is just that. The hustle is real. Also, you have to understand the difference between a hobby or an interest and making something
your career. My yoga practice isn't just for me now – it's a job. You also have to continually learn, evolve and come from a place of truth. People can smell it a mile off if you aren't practicing what you preach.
Do you have a favourite affirmation or quote you remind yourself of when life throws you a few challenges?
I absolutely love quotes!! They're one of my fave things in the world so there are so, so many that get me fired up. Anything that Eckhart Tolle says, Rumi quotes are the best and Brene Brown.
What are your goals and aspirations for the coming year?
To grow No Beers? Who Cares! into a nationwide initiative and to keep learning and evolving. And to be a more present Mum.
Thank you, Claire! x You can connect with Claire via the following...
Website: www.clairerobbie.com  www.jackandoliveretreats.com
Instagram: @clairerobbie
Facebook: @jackandoliveretreats