Wellness Influencer Interview: Eleanor Ozich
This week's Wellness Influencer, the gorgeous Eleanor Ozich, likely needs no introduction for many of you. She's the best-selling author of four delightful cookbooks, full of simple & wholesome recipes. On her beautiful blog, she shares ideas and inspirations for living a life less complicated. When it comes to living a healthy and balanced life, I wholeheartedly agree with Eleanor that we need to simplify nearly all aspects of our life and focus on slowing down. That's when the magic happens. Below, Eleanor shares how she creates space in her life to stop and smell the roses...
Recent posts by Renée Leonard-Stainton
Conscious Beauty Edit for Plastic Free July
Over the past year and a half, I've been on... (read more)
Green Travel Tips - Your Guide to Eco-Friendly Travel
Thank you to New-Zealand based freelance... (read more)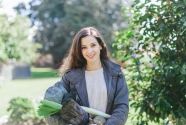 Wellness Influencer: Danijela Unkovich
I've always been impressed with nutritionist... (read more)
Please tell us a little about your business, yourself and how you got to where you are now in the wellness industry…
Our journey to wellness began about five years ago, when our daughter Izabella developed a severe skin condition and food intolerances. We visited countless doctors and specialists, and then finally, a naturopath who explained how she was struggling with an imbalance of gut flora, causing toxins that were resulting in her skin condition, among other issues. This revelation made complete success to us. We embarked on a journey to heal her skin through eating a more natural diet, and adopting a simple way of eating that many seem to have lost sight of. During this time, we lived in a tiny apartment, and I started a blog called 'Petite Kitchen' where I shared an abundance of recipes, inspired by simple, wholesome food. Since then, I've written four books, and now have three beautiful children, Bella, Obi and little baby Archie, as well as a wonderful husband called Valentin. We recently moved from the hustle and bustle of Auckland city to a 1950's beach house surrounded by native bush in the West Coast. It's a small, simple house, but it is ours, and it's full of life!
The blog has had a slight shift in focus recently, and naturally, it seemed the name 'Petite Kitchen' no longer resonated. I now write under my author name instead. The blog is a journal of sorts, a space where I share daily musings, stories and ideas for living a life less complicated, and adapting with the seasons.
What does 'living naturally' mean to you?
Living naturally to me, is about finding balance in each aspect of your life, whether it be your health, your fitness, your relationships or career. Life is full of continuous tests and trials, and daily distractions that can feel heavy. There's work deadlines, bills upon bills, health challenges, or the struggles that can come with parenting. It's with these challenges, that we often tend to pick up emotions along the way, causing us to lose our centre, become unbalanced or feel overwhelmed. I have learnt that by letting go of the things that no longer make me feel good, and focusing on those that do, I've been able to find so much beauty and meaning in the simplest of things. These small, daily things, they're essential for finding balance, clarity and a sense of wellness, particularly within this hurried world that so often surrounds us.
What does a typical day in the wellness world look like for you?
I usually wake with the sunrise, open the front door, and breathe in the fresh, cold air. Being an early riser not only helps me to connect with my body's natural rhythm, it also satisfies the need for a peaceful and relaxing start to the day, before my three little one's wake up. In summertime, we'll enjoy a round of smoothies for breakfast, usually a creamy concoction of banana, vanilla, coconut milk and fresh berries. In winter, we love the comfort in a steaming bowl of oatmeal, and the way it sets you up for the day, without being too heavy. We always endeavour to sit around the table, and enjoy breakfast together. It's a beautiful way to connect, and check in before we start the day. Once my older two are at school, I'll mostly spend the day at home with Archie, pottering around, cooking, gardening, that kind of thing. And when he sleeps, I'm usually working on various projects, blog posts or freelance writing. We'll walk to pick up the older two from school, then spend the afternoon down at the beach, or wandering our neighbourhood. I'm big on routines with my kids, and so, the early evening is usually made up of lovely little rituals to help us unwind.
What are your top 3 tips for staying fit and healthy?
The first would be to spend as much time as possible outdoors. The effect nature has on our soul is deep, magical, and captivating. It's something so simple, yet more often than not, we rarely take enough time to appreciate our surroundings, and the strength it has to offer us.
The second is to be organized when it comes to a well-stocked pantry and meal planning. We mostly enjoy a plant-based diet, and so for us, the quality of the produce is essential to inspire simple meals. There's always plenty of leafy greens, for salads, vegetable stews, soups and smoothies, and I often freeze any leftover dark greens, to avoid waste. Store cupboard staples are also key to keeping the price of your weekly shop down, and having ingredients on hand for if you're running a bit low on fresh produce.
And last but not least, for me to feel healthy and balanced, I've had to consciously take notice of the daily distractions and simply say 'stop' to them. Whether it's my phone lighting up constantly or the flashing television in the background. These distractions unapologetically demand our attention and make us feel stressed, so long as we allow them to. It seems we live in a world where everything is so fast paced and instant, it's no wonder the need for a slower paced lifestyle is becoming more popular!
In a nutshell, what's your food philosophy?
Food to me, is all about using good quality, wholesome ingredients, and doing as little as possible to them. In my kitchen, simplicity is most definitely the greatest virtue, and eating with the seasons is absolutely essential. Most weekends, we enjoy visiting our local markets, it's become a lovely family ritual that revives the soul and inspires meals for the week ahead. It's so tangibly lovely to be able to meet the growers and artisans who produce the food we eat. I just love striking up a conversation with them, and hearing their passion for the products they create. It's also great to connect with the story behind what you eat.
What do you do to 'reset' the balance button when life gets a bit hectic?
It's so important to love yourself, the same as you love your children, your spouse, or your friends. Self-care is something I am getting better at, and I often have to remind myself to put time aside for it. At least three times a week, I'll indulge in a long hot bath, the kind with candles, essential oils and a good novel in hand. Most days, I'll also go for a long walk around our neighbourhood, it's such a simple, yet achievable way to unwind and relax. 
We're all about balance around here…What's your biggest indulgence?
I've always had a deep love for pannacotta, with its luxuriously creamy texture and simple flavours. Well, any creamy dessert really, such as soft and silky mousse or vanilla spiked crème brulee. If we go out for dinner, I'll always order dessert to finish!
What healthy snacks might we find on your desk or in your handbag?
My kids are always hungry, and if you have little one's too, I'm sure you can relate!  And so it's essential to always have wholesome snacks on hand (and for myself, too!). A few of our favourites are lemony coconut truffles, dark chocolate chip oat cookies, banana bread, or homemade butterbean hummus with raw veggies for dipping.
Can you share with us your top two pieces of advice for people wanting to start a career in the wellness industry?
The first would be to know exactly what you are trying to achieve, and the message you are sending out into the world. From experience, there's been plenty of times when I've been confused about what I'm sharing, and whether it's meaningful or true to my beliefs. At the end of the day, I always come back and remind myself that the basis of my message is simplicity, in all shapes and forms. Once you are absolutely sure about your message, you simply have to commit to it, keep working at it and don't give up. It certainly isn't easy, but it is always worth it if you're committed enough.
Do you have a favourite affirmation or quote you remind yourself of when life throws you a few challenges?
"Enjoy the little things, for one day you may look back and realize they were the big things." -  Robert Brault
What are your goals and aspirations for the coming year?
This year, I want to continue focusing on finding simplicity in all areas of my life, It's so easy to get swept up in a million and one things that seem all consuming at the time! Living simply is a journey that is continuously evolving and changing as my children grow.
Thank you, Eleanor. Such wise words! x You can connect with Eleanor below...
Facebook - @eleanorozichauthor
Instagram -  @eleanorozich
Website - https://eleanorozich.com/