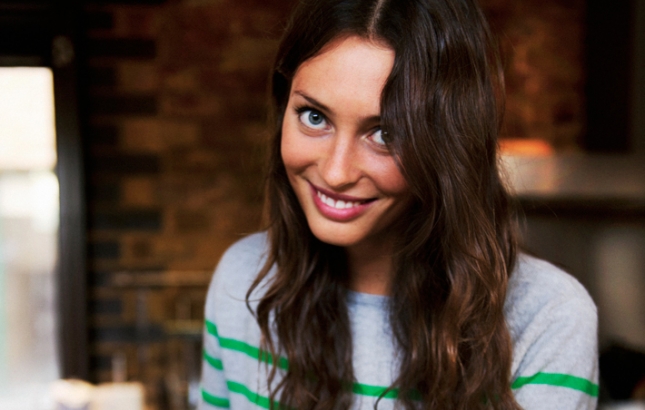 Wellness Influencer Interview: Ella Woodward
The stunning Ella Woodward's quest for health and happiness has turned into the UK's most loved healthy food blog, Deliciously Ella. Attracting approximately two million users a month (that's right, million), her blog inspires and educates readers all over the world to take up a healthier and more creative diet. I managed to steal some time from Ella's very busy schedule to chat to her about all things we (and likely, you) share a mutual passion for...
Recent posts by Renée Leonard-Stainton
Conscious Beauty Edit for Plastic Free July
Over the past year and a half, I've been on... (read more)
Green Travel Tips - Your Guide to Eco-Friendly Travel
Thank you to New-Zealand based freelance... (read more)
Wellness Influencer: Danijela Unkovich
I've always been impressed with nutritionist... (read more)
NAME: Ella Woodward
OCCUPATION: Food blogger
Please tell us a little about your business, yourself and how you got to where you are now in the wellness industry…
I started writing my blog DeliciouslyElla.com in 2011 after I was diagnosed with a rare illness called Postural Tachycardia Syndrome (PoTS), which broke down my automatic nervous system and left me unable to get out of bed. I tried conventional medicine for about six months with no luck so I turned to natural healing and radically changed my diet, giving up meat, gluten, dairy, sugar, and anything processed overnight – it was a huge change, especially as I couldn't cook! It took me eighteen months to heal and come of medication, during which time I taught myself to cook and started my blog as a way to record all my new discoveries. The blog then slowly grew and grew, it now gets about two million hits a month and has evolved into a business. I've just finished writing my first cook book, developed a best selling app, teach cooking classes, give talks and hold supper clubs – all of which I love! I'm also training as a naturopathic nutritionist, which is amazing.
What does 'living naturally' mean to you?
I think it's about going to back to basics. I try to focus on whole, real foods that nurture the body and that make me feel amazing. I try to listen to my body as much as possible and do what feels right for me, we're all different and it's so important to find out what works best for you.
What does a typical day in the wellness world look like for you?
Every day is so different, which I love. I have lectures for my nutrition school one day a week and the rest of the week is so varied – I teach four cooking classes a month plus a couple of private classes, I also work on various projects with exciting brands, work on my blog, my book and my app and experiment with new recipes.
What are your top 3 tips for staying fit and healthy?
The first, and most important, thing is to listen to your body and love your self – the more you're able to love yourself the happier you feel and if you're happy then you're more likely to want to be as fit and healthy as possible.
The second thing is to try and get some movement in your life everyday, even if it's just a twenty minute walk – it really helps you feel amazing
The last thing is to try and make a juice or a smoothie everyday, it's the easiest way to get lots of goodness into your life, plus they're delicious
In a nutshell, what's your food philosophy?
My philosophy focuses on celebrating a positive attitude towards food. I really believe that healthy eating is never about deprivation or starvation but instead it's about creating a new mindset. A mindset that embraces all the delicious foods we should eat and all the amazing things that we can do with them. In doing this we can love food, love snacking and love our bodies all at the same time.
What do you do to 'reset' the balance button when life gets a bit hectic?
I try to take some time with no technology, I turn off my phone and shut my computer and do something that I love. I love doing some yoga, taking a bath with essential oils, doing a facemask and then I make a delicious meal with my flatmates – I always feel amazing after this! Plus a good sleep always does wonders for everything.
We're all about balance around here…What's your biggest indulgence?
Raw brownies, they're my absolute favourite thing and I can eat dozens of them at a time!
What healthy snacks might we find on your desk or in your handbag?
I do love my raw brownies, I also make a lot of energy balls to carry around with me – they're full of dates, nuts, coconut oil, cacao and hemp powder, each bite gives you so much energy! I also keep my fridge stocked with homemade hummus, I'm obsessed with hummus, it's one of my absolute favourite snacks.
Can you share with us your top two pieces of advice for people wanting to start a career in the wellness industry?
The wellness industry is growing so fast at the moment, which is so exciting. I think the most important thing that you can do is stay true to yourself and do something totally authentic, it helps you stand out and allows people to connect with you. I also think social media is an amaing place to start, instagram is an amazing place to explore your ideas and get people excited about what you're doing.
Do you have a favourite affirmation or quote you remind yourself of when life throws you a few challenges?
You get back what you put it, it's my favourite expression and something that I really try to live by. The more energy and love you put into something, the more energy and love you'll get back.
What are you goals for the coming year?
I want to inspire as many people as I can to be their healthiest, happiest self! I'm also trying to teach myself the work, life balance and learn when to turn Deliciously Ella off!
What an honour chatting to you, thank you Ella. You are such a big inspiration... Keep up the amazing work! x