Wellness Influencer Interview: Emma Peters
Meet Emma Peters...a lady who truly knows her stuff when it comes to holistic beauty!  She's an organic makeup artist + director of Belle & Sage, the gorgeous online conscious beauty store. We met over a decade ago when Emma worked her magic on my mug for a TV ad, & we instantly bonded over our mutual love for yoga (she went on to study yoga....it's still on my bucket list), whole foods, healthy living & toxin-free beauty products. Naturally, copious amounts of conversation was had over pursed lips & the hum of the hairdryer as we well & truly dived into the wellness world (Thankfully, Emma is an exceptional multitasker as the Mama of two girls, a film & TV makeup artist, magazine contributor & company founder + director...no wonder she counts meditation as a key to staying healthy!) Say hi to Emma...
Recent posts by Renée Leonard-Stainton
Conscious Beauty Edit for Plastic Free July
Over the past year and a half, I've been on... (read more)
Green Travel Tips - Your Guide to Eco-Friendly Travel
Thank you to New-Zealand based freelance... (read more)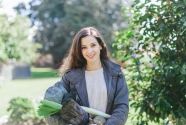 Wellness Influencer: Danijela Unkovich
I've always been impressed with nutritionist... (read more)
Please tell us a little about your business, yourself and how you got to where you are now in the wellness industry…
I'm a makeup artist, a mother of two girls, a whole foodie and director of Belle & Sage, an online conscious beauty store. I think my interest in health and wellness came from a deep seated belief that we have the ability to heal ourselves and live vibrantly despite what our modern world throws at us. Over the last few decades I've studied yoga and nutrition, in particular, that of ancient cultures, and continued to work as a makeup artist in the world of Film, TV and Advertising. The holistic and conscious nature of my studies meant that I also had to bring this knowledge into my day job as a makeup artist too. I'd been used to reading
food labels, so it was time to start reading cosmetic labels. For years though, I was stumped. It seemed almost impossible to find products that worked as well as the conventional products I'd been used to, and that were free of potentially toxic ingredients. I slowly started to gather products that fit my strict criteria, and I wanted to make them easily available to people. So each product I stock at Belle & Sage is tested and approved by me on the job and I've been over the ingredients to make sure they're as natural as possible. If not, on either count, I won't stock it. And I'm always learning and tweaking too.
What does 'living naturally' mean to you?
Living naturally to me means being conscious about everything in life. Choosing the best options available at any given time. We're pretty clean eaters in our house, eating whole, natural clean food and using as few chemicals in our house as possible. For instance, I clean only with high PH water and essential oils and make all of our food from scratch.
What does a typical day in the wellness world look like for you?
Writing articles for my blog about anything from food to cosmetic chemicals. Or freelancing as a makeup artist using natural and organic products. Or working with clients teaching them how to detox their makeup bags (and lives)
What are your top 3 tips for staying fit and healthy?
Breathing, meditation, and exercise, Eat only real food, Be educated about what you put in and on your body. If you're educated, then you can choose when to make little adjustments or indulgences.
In a nutshell, what's your food philosophy?
For years I've gravitated to Sally Fallon's Nourishing Traditions. This is a mix of how different traditional cultures prepared and ate their food. Paleo is probably the closest to my current food philosophy. And for me, being gluten and dairy free seems to work well to hold off an autoimmune disorder I've been dealing with for years.
What do you do to 'reset' the balance button when life gets a bit hectic?
Breathe and meditate. It's so underrated but it really works!
We're all about balance around here…What's your biggest indulgence?
Hmmm, I'd have to say chocolate! Raw, organic of course :)
What healthy snacks might we find on your desk or in your handbag?
I make a killer cookie (GF, DF and refined Sugar-free - ok, a smidgeon of chocolate in them but only just!)
Can you share with us your top two pieces of advice for people wanting to start a
career in the wellness industry?
Just get in there and learn as much as you can. And there are so many different ways to help people to wellness, be creative.
Do you have a favourite affirmation or quote you remind yourself of when life throws you a few challenges?
I remind myself that the Universe has my back and everything is as it should be.
What are your goals and aspirations for the coming year?
To educate more as many people as I can through Belle & Sage about the dangers of putting toxins on the skin and the benefit of using some of the absolutely gorgeous products available. I've also got a really exciting plan taking shape and can't wait to share that when the time comes!
Thank you so much, Emma! Check out all the beauty that Emma shares with the world below...
Website - www.belleandsage.com
Facebook - @belleandsage
Instagram - @belleandsage
Live well, live long, live naturally
Renee x