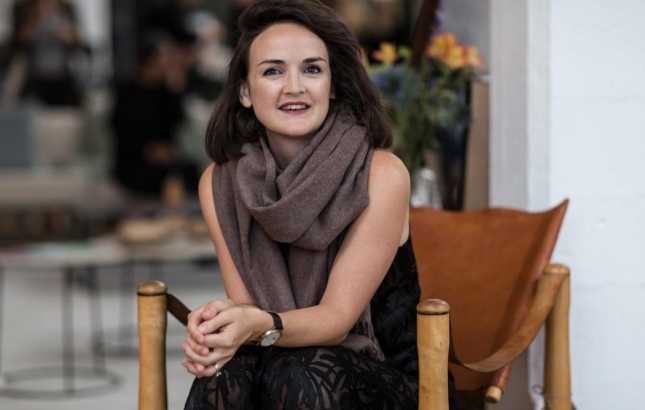 Wellness Influencer Interview: Frances Shoemack
I'm sure that Frances Shoemack heard my pleads to the universe a few years back... "Can someone please, pretty please make a perfume that is natural, organic, smells divine and looks stunning (I'm just a touch fussy)?" Frances delivered bigtime with the stunning Abel, an 100% organic eau de parfum.   Meet Frances, a lady who effortlessly blends organic and style...
Recent posts by Renée Leonard-Stainton
Conscious Beauty Edit for Plastic Free July
Over the past year and a half, I've been on... (read more)
Green Travel Tips - Your Guide to Eco-Friendly Travel
Thank you to New-Zealand based freelance... (read more)
Wellness Influencer: Danijela Unkovich
I've always been impressed with nutritionist... (read more)
Please tell us a little about your business, yourself and how you got to where you are now in the wellness industry…
I have always had a passion for smells - their ability to affect our mood, motivation, to evoke feeling, memory…. often all without us even noticing! This resulted a career in the NZ wine industry –one that intersected my interest in smells, nature, science and creativity. With a farmer father and yoga teacher mother, I've always had a holistic approach to health. A decade later and following a move to Amsterdam, I was aware that perfume was the one thing in my bathroom cabinet that 'let the team down'. So, unable to find an organic perfume that smelt and looked great, I pulled together a team to create one! The result is Abel - 100% organic perfumes (good enough to drink) made by a master perfume (fellow kiwi and nose Isaac Sinclair, based in Sao Paulo) and packaged sustainably (for example we use hand-crafted reclaimed wood in our packaging that protects the fragrances from heat and light damage in lieu of chemical preservatives). Abel is based in Amsterdam where I live with my husband Dave and son Rufus. Our perfume is now available in top stores around Europe and recently in NZ and Australia.
What does 'living naturally' mean to you?
Living in a manner that is true to yourself, others around you, and the planet. Making choice-full decisions about the way you live, consume and act.
What does a typical day in the wellness world look like for you?
Ha, there really is no typical day (a business and a family will do that for you) - something I both love, and also find challenging.  Typical-ish looks like…
Up at 6, check emails, get family / breakfast sorted. Then get out of the house (yoga, a walk or coffee) to get my head in the right space to attack the day - I work from home, so the time out is really important. My workload is a mix of what the business needs – everything from product and business development, right down to personally packing and sending orders! If I'm not busy out and about with meetings, I make sure I take a couple of breaks (ideally outside) during the day. In the evening we try to have a family dinner and after bubs has gone down, Dave and I often have a business debrief (he's really involved with Abel, but also works full time), followed by an early night (before 10).
What are your top 3 tips for staying fit and healthy?
One of my favourite things about living in Amsterdam is how easy it is to exercise without even meaning to (biking or walking everywhere). My tip would be to try and find ways to incorporate 'fitness' into daily life - it feels more natural, and is more achievable and enjoyable.
Live like a yogi – sit on the floor, take deep breaths if you're feeling stressed, stretch when you feel lethargic. Little things that really help mentally and physically.
Keep your favourite healthy foods on hand so you never feel like you're trying to eat healthy. Food that's good for you shouldn't feel like a compromise or the hard option.
In a nutshell, what's your food philosophy?
I aim for plant heavy, wholefood, organic and home-prepared. But I also have an 80/20 rule.  So long as most of what we are eating is the above, I don't stress about the rest.
What do you do to 'reset' the balance button when life gets a bit hectic? 
I stop and have a long chat with Dave. I find reflecting and taking time out to dig into how I'm feeling is generally the best way for me to feel rejuvenated and back in control (even when ploughing on feels like the easiest option). And sleep. Never underestimate the importance of sleep!
We're all about balance around here…What's your biggest indulgence?
A coffee & croissant with my boys at our local café on a weekend morning! It's nothing ground breaking, but there's something about the simplicity of it that makes it super indulgent!
What healthy snacks might we find on your desk or in your handbag?
Almost always banana's, often other fresh fruit or vege, sometimes nuts (soaked if I'm organised) or homemade blissballs.
Can you share with us your top two pieces of advice for people wanting to start a career in the wellness industry?
Although some areas (i.e. food, beauty) have seen a lot of activity in the past decade, there are many areas of life that are defined by conventional school of thought and are in dire need of a wellness / ethical makeover! Our schools, our communities… The future of wellness needs to be truly holistic and requires creative thinking and courageous people to drive it.
Find ways to make wellness mainstream (this is also a personal quest). I'll be happy when we don't label 'Organic', but 'Not Organic'. Or when we don't need special insurance for 'alternative medicine', because it's widely accepted that there are different ways to treat illness.
Do you have a favourite affirmation or quote you remind yourself of when life throws you a few challenges?
Whenever I'm feeling worried or stressed, I like to ask myself 'will it matter in 5 years time'. I can't remember where or when I was introduced to this philosophy, but it was years ago and I find it a really effective way to cut out the bullshit and wasted energy on trivial nonsense (which, let's be honest, is 99% of the things we worry about).
Thank you Frances! I just love the 'will it matter in 5 years time' call. Such a worthwhile reminder about what really matters! x