Wellness Influencer Interview: Lauren Willmot
Before Nutritionist & Naturopath, Lauren Willmot fell in love with natural therapies, she was your "typical work hard, play hard kind of girl who lived off sugar, booze and dancing instead of sleeping". After experiencing her fair share of health issues, she started discovering and educating herself on the power of alternative therapies.  "The health of our body is dependent on our diets – you can prevent disease, cure disease and cause disease with the foods you choose to nourish yourself with"  So true! Meet Lauren...
Recent posts by Renée Leonard-Stainton
Conscious Beauty Edit for Plastic Free July
Over the past year and a half, I've been on... (read more)
Green Travel Tips - Your Guide to Eco-Friendly Travel
Thank you to New-Zealand based freelance... (read more)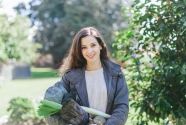 Wellness Influencer: Danijela Unkovich
I've always been impressed with nutritionist... (read more)
Please tell us a little about your business, yourself and how you got to where you are now in the wellness industry…
First of all, I'm a Mum to a beautiful 2-year-old, then I'm a Nutritionist, Naturopath and a Pilates instructor.
I got to where I am by studying nutrition and herbal medicine at ACNT while working in my local health food store and then when I had my daughter I found Pilates as I had severe abdominal separation.
What does 'living naturally' mean to you?
It means living a low toxin/toxin free life - we eat organically, we use all natural cleaning and skin care products and we spend as much time as possible outdoors
What does a typical day in the wellness world look like for you?
My day always starts with Pilates, and most days it's reformer Pilates at Active Pilates in Mona Vale then it's green smoothies at home with my daughter followed by a walk with our dog Max. After that, it will be taking Lily to Montessori or swimming lessons or me going to work. We always end the day at the park and by eating a healthy dinner together.
What are your top 3 tips for staying fit and healthy?
Pilates, drink a lot of water and eat a plant-based diet
In a nutshell, what's your food philosophy?
Plant based - we don't eat animal meats every day, 80/20, organic where possible
What do you do to 'reset' the balance button when life gets a bit hectic?
If it's getting a bit hectic due to "two-year-old problems" there's nothing that a bit of music and a dance can't fix but for me sun, salt water and fresh air!
We're all about balance around here…What's your biggest indulgence?
Wine! Biodynamic wines make me very excited.
What healthy snacks might we find on your desk or in your handbag?
Bliss balls, I love making all kinds of bliss balls to curb my sweet cravings. At the moment fig, apricot & tahini are my favourites.
Can you share with us your top two pieces of advice for people wanting to start a career in the wellness industry?
1. If you love the field of work you choose then you will be forever happy and succeed!
2. Practice what you want to preach
Do you have a favourite affirmation or quote you remind yourself of when life throws you a few challenges?
This too shall pass (great for two-year-old tantrums)
What are your goals and aspirations for the coming year?
I've just completed my mat Pilates instructor training, and by the end of June I will have my reformer Pilates Training completed too, so once that's all done I'm looking forward to focusing my energy on my career in Pilates while also offering nutrition and naturopathy consults to my clients.
Thank you, Lauren! You can connect with Lauren below...
Website - www.laurenwillmotnutrition.com
Instagram - @naturopath_laurenwillmot