Wellness Influencer Interview: Lee Holmes
A holistic nutritionist, Hatha Yoga Teacher and Whole Foods Chef, Lee Holmes is a mum on a mission – to change the way we eat and alter the perception that cooking fresh, wholesome, nutrient-rich meals is difficult, complicated and time-consuming. Lee has now published six books in the Supercharged Food series with more due for release this year. Meet, Lee (a.k.a Superwoman! in my books!)
Recent posts by Renée Leonard-Stainton
Conscious Beauty Edit for Plastic Free July
Over the past year and a half, I've been on... (read more)
Green Travel Tips - Your Guide to Eco-Friendly Travel
Thank you to New-Zealand based freelance... (read more)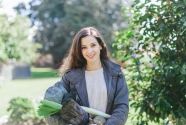 Wellness Influencer: Danijela Unkovich
I've always been impressed with nutritionist... (read more)
Please tell us a little about your business, yourself and how you got to where you are now in the wellness industry…
My website is www.superchargedfood.com it's a lifestyle blog that incorporates recipes, online programs and an online store with books and ingredients and wellness products. I started it because I needed to heal myself from the inside out. After being diagnosed with an autoimmune disease and fibromyalgia several years ago, I was accustomed to feeling constantly lethargic, down and being on a myriad of prescribed drugs and antibiotics. While I was prescribed so many drugs and antibiotics to 'cure' my body, I knew that the real change in my health could only come from me. This sparked my interest in all things wellbeing, gut and nutrition. Instead of just reading about this information, I started to live by it. I had previously studied food and nutrition and went to cooking school. This is where I planted my supercharged roots, and started the blog that has taken me to where I am today. I started to document my process, discoveries and recipes on my blog, in the hope of helping people who had had similar experiences with their health through food and a sense of understanding.
My desire was, and still is, to make healthy cooking and eating delicious and simple for everyone. I'm trying to change the way that people see health, and help people take it into their own hands, one gut-boosting smoothie at a time.
I'm the author of the number one selling books Supercharged Food: Eat Your Way to Health, Eat Yourself Beautiful, Eat Clean, Green and Vegetarian, Eat Right for Your Shape, Supercharged food For Kids, Heal your Gut and, most recently, Fast Your Way to Wellness. I run two online programs for healing the gut, have my own Supercharged Food, Earth Mask & Scrub and Heal Your Gut Powder! I'm also a yoga teacher, health coach, whole-food chef and a mum!
What does 'living naturally' mean to you?
Just like my food, I like my life to be free of artificial sweeteners and preservatives. I keep everything in my life as real and natural as possible, including my relationships, beauty routine, nutrition and work.How you may ask?
In regard to my relationships, I try to surround myself with people who I have proper connections with. I'm all about people who simply make you feel good; people who are honest, passionate and trustworthy. It can take years to find the right people, but once you have them, they're not worth giving up.
My beauty routine similarly is made up of simple and natural ingredients. I only use Natural Instinct products, and my own Supercharged Food, Earth & Mask, on my skin. My skincare routine is minimal – not many of us have time to apply, lather and rinse for three hours in the morning! I'm also very much a make-up minimalist and allow my skin to breathe during the day. My approach to nutrition is similarly very natural. I steer clear of artificial and processed foods, only eating real and whole foods. To live naturally, one needs to listen to their own body and see what it needs. Trust me, your body will tell you; you just need to listen! Lastly, I like to keep my work real. I guess you could say I preach what I teach! For example, in my latest book, Fast Your Way to Wellness, I speak about how I intermittently fast two days a week. I wouldn't sell something or advocate for something that I don't believe in – that's something not natural to me. 
What does a typical day in the wellness world look like for you?
Every day is different! However, I like to start my morning with a walk for at least an hour. I leave my phone, troubles and work at home. This is a great time for me to plan my day, re-fresh my head for the new day and kick-start my digestive system! I've always been a bit of an early bird and use it to my advantage! I try to get most of my work done during the morning and afternoon and then switch off at night. During the day, I could be working on my latest book, planning my next blog post, doing photo shoots of all the amazing products I receive, coaching a client, teaching a yoga class or giving presentations. I finish all my work by 6pm, cook dinner for my husband and I, and then relax with him! We sometimes go for walks at night, to the movies or just sit in front and talk. Before bed, I put a bath on, light a candle and turn off all electronics by 9pm. 
What are your top 3 tips for staying fit and healthy?
Listen to your body! Our gut and digestive system are cleverer than we think. The gut controls how we digest food, protects us from bacteria and is responsible for sending signals to the brain about hunger and emotions. Healing your gut brings benefit to the whole body. Southernature's Colostrum is one of the things I take to keep my gut in check. The chewable tablets are made from 100% bovine and they support my digestive system through the good times and the bad.
Learning how to balance everything can play a serious part in being able to stay fit and healthy (not to mention – sane!). Over the past few years, I've learnt how valuable and necessary down-time is and ensure that I'm not constantly 'on'. I make time for everything that I need by scheduling it in: I plan when I'm working, when I'm meeting friends for a tea, when I'm coaching a client, when I'm teaching yoga and when I need to have some down time.
Get moving! I know that not everybody loves the thought of starting the day off lifting weights or spinning on the bike, but making sure you keep active – whether it's walks, kickboxing out your stresses, dancing to funky music, swimming at the beach or going to your favourite yoga class, is my best tip for staying fit and healthy. Find what you love and stick with it! You'll feel better for it – and won't be overcome with dread when you think of the gym.
In a nutshell, what's your food philosophy?
I think the most important thing is to listen to your body and decide for yourself what is right for you. Because of our globalised, fast-paced world, we've become snack-obsessed and rely on processed foods filled with artificial preservatives and sugars. Companies like to label products as 'healthy' because they're low in calories, but that doesn't mean they're not full of unnatural ingredients, additives and extremely high amounts of sodium. These build up in our body and put a serious strain on our immune system. Fad diets flow in and out of fashion quickly, and thin celebrities are constantly convincing us that we need their new wonderful product or book. My food philosophy is simple: eating whole foods and eating in moderation. I prepare yummy recipes which are gluten, wheat, dairy, yeast and sugar-free.
What do you do to 'reset' the balance button when life gets a bit hectic?
Intermittent fasting! In my latest book, Fast Your Way to Wellness, I speak about intermittent fasting but I'll give you the low-down now! intermittent fasting is a sensible and sustainable approach to resetting the balance button on life! It's fast to achieve health, improve my longevity and lose weight! The intermittent fasting that I do involves restricting calories two-days a week to 500 calories (2090 kJ) for women and 600 calories (2510 kJ) for men. According to scientific research, this is enough to strive and feel the extraordinary benefits of fasting without deprivation and depleting your body's cells! Intermittent fasting for me has become a way of life. It is a healing process that lets the body be restored back to its true function and processes! I fast two days a week and eat whole foods on the other five days of the week! Some may prefer eating within an eight-hour window (10am-6pm), skipping breakfast, abstaining from food for 24 hours at a time (or more!), and many other approaches. There's an approach to suit everyone.
Before an event or stressful time, I fast the day before. This helps me keep things in perspective and enables me to feel fresh and healthy!
We're all about balance around here…What's your biggest indulgence?
To be honest, I used to have a big sweet tooth! If you've ever scrolled through the supercharged blog, you'll notice this quickly. I indulge on healthier versions of my old-school favourite indulgences. I truly believe in moderation and sometimes, can't get my hands off dark chocolate, my turmeric fudge or no more muffin top muffins! You can't live your life dreaming about your favourite desserts and feeling deprived. It's so important to listen to your cravings. And that's so okay with me!
What healthy snacks might we find on your desk or in your handbag?
One of my favourite snacks ever is my turmeric fudge!
During fasting days, I love snacking on cut-up veggie sticks and hummus or berries. Also, I'm a sucker for home-made chai – it's one of my favourite beverages!
Can you share with us your top two pieces of advice for people wanting to start a career in the wellness industry?
I must admit it, the wellness industry is hard to break into. Everybody is searching for a point of difference in the industry. Just remember, your point of difference is who you are – your experiences, your lessons, your sense of humour and your insight. Also, think of the message you're trying to send and stick to it! Don't stray away from your core.
Do you have a favourite affirmation or quote you remind yourself of when life throws you a few challenges?
"Find something you are passionate about and keep tremendously interested in it" – Julia Child. Whenever I'm feeling doubtful about my career choices and time constraints, I try to remind myself why I'm in the job that I am today. Healing through food, teaching about nutrition and sharing experiences is where my passion lies. Whenever this starts to dwindle, I delve into research and get writing!
What are your goals and aspirations for the coming year?
This year is certainly a huge one for me! I'm so thrilled withall of the amazing feedback I've already gotten from Fast Your Way to Wellness and am going for a tour around the United States and United Kingdom – I'm so excited to meet everyone! I'm also working on a new and delicious (hint!) product and another book I know you will love! My goal for 2017 is to constantly grow from experiences, learn from everybody and live unapologetically!
Wow, Lee...you are Superwoman! Thank you for sharing with us! Renee x
Connect with Lee
Website www.superchargedfood.com
Instagram @leesupercharged 
Facebook @superchargedfood