Wellness Influencer Interview: Lisa Fitzgibbon
Lisa Fitzgibbon is a qualified, experienced and registered Naturopath + Medical Herbalist. She's seriously a wealth of knowledge on all things holistic health related but what I love the most about her is her incredible knack for sharing it all an easy-to-understand and entertaining way. She's a crack-up and has a no-fluff attitude to tackling health topics head-on. I asked her what some of her biggest indulgences were & she said a couple of glasses of fermented grape juice (wine) "I'm a naturopath, not a saint." Cheers to that & happy weekend all! Meet Lisa...
Recent posts by Renée Leonard-Stainton
Conscious Beauty Edit for Plastic Free July
Over the past year and a half, I've been on... (read more)
Green Travel Tips - Your Guide to Eco-Friendly Travel
Thank you to New-Zealand based freelance... (read more)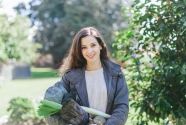 Wellness Influencer: Danijela Unkovich
I've always been impressed with nutritionist... (read more)
Please tell us a little about your business, yourself and how you got to where you are now in the wellness industry…
I'm a registered Naturopath & Medical Herbalist. I run my own practice in Grey Lynn, Auckland called OOMPH.  When I first left school I did a three-year diploma in advertising and then worked in this industry for a number of years. However, I got disillusioned with it all – as I didn't believe in the products & services that I was helping to sell. So, I quit!  I'd always been interested in natural health, and because I had suffered from a couple of serious health issues, I decided to retrain as a Naturopath & Medical Herbalist (2004-2006). I have been working in this role ever since. I love what I do now because I get to promote something that I do actually believe in – our health, the health of our planet, and the health of all those we share it with. I do this through seeing clients, and by writing my blog (www.lisasaid.so). This writing is also a great way of satisfying my creative urges.
I started working in health supplement stores at the end of my first year of Naturopathic study. I found this 'on the floor' training invaluable in gaining real-life experience.  Once I qualified, I set up OOMPH straight away to get my 'feet wet', but continued to work for part of the week as an in-store Naturopath. I was lucky enough to have employers who trusted me to refer customers to myself - if the customer needed more help than what was available in a retail setting. Over the years I've gradually built up my business through: personally selling my skills to individuals; word-of-mouth from 'happy' clients; and my blog gaining traction (it's nearly 3.5 years old). I'm now lucky enough to just work in private practice. I'm super grateful about this as I love helping people get (and stay) well – in my own special way :-)
What does 'living naturally' mean to you?
Listening to your body, and then actually following its advice! (Not following every Tom, Dick and Harry's health advice – just because it worked for them). For example, if a certain food doesn't 'sit well' with you, then stop eating it for period of time – no matter how much your taste buds may protest. If you're overdoing it with exercise and it's making you feel tired and grumpy, then cool it for a while. If you're not doing enough exercise and you're feeling 'down', get yourself out in the fresh air – and don't come back until you're in a better mood!
If you're not good at listening to your body then visit a Naturopath. Tell us your symptoms and we will translate them for you, and give you the right advice to follow.
What does a typical day in the wellness world look like for you?
I get up anywhere between 5-7am depending on how busy I am. Because I run my own practice - at this stage, I'm 'it'. So, my week is a mad whirlwind of:
• researching or prepping for clients, seeing clients, and writing their treatment plans
• doing 'admin' (ordering + receiving practitioner grade supplements + herbs, billing clients, paying suppliers, filling repeat prescriptions, dispensing herbs, responding to emails etc etc blah blah)
• writing my blog + facebook updates, and writing for various publications
• attending seminars + webinars
• marketing: working on how (and where) to better promote my service
At the moment, I'm working 6 - 7 days per week. (But not necessarily all day every day!) I'm always looking for smarter ways to do things. That way, I'll have more time to work on my business, rather than just working in it.
What are your top 3 tips for staying fit and healthy?
• Diet-wise: Minimise your anti-nutrients - coffee, sugar, and alcohol. Eat a basic but varied whole food diet – and chew it well.
• Exercise-wise: Keep it balanced – don't go overboard. (And, don't take your phone with you, or at least turn it off.)
• Sleep-wise: Get to bed by 10pm and get up early  (And, ban your phone from the bedroom.)
In a nutshell, what's your food philosophy?
As long as the basis of your diet is whole food – and preferably organic -  anything else is an option (in moderation).
What do you do to 'reset' the balance button when life gets a bit hectic?
I'm one of those people who enjoys their own company, and so I like to hang out with myself quite a bit! One place I like to take myself is mountain biking in the forest. This satisfies my desire to be alone, to be in nature, and to do something physical. I like to think of myself as a 'little red riding hood' out there! (I particularly love mountain biking in the rain.)
We're all about balance around here…What's your biggest indulgence?
A couple of glasses of fermented grape juice (wine) goes down a real treat!
(I'm a Naturopath – not a saint) And, as long as it's good quality, I'm not too fussy about how 'it comes' – red, white, or rosé.
What healthy snacks might we find on your desk or in your handbag?
Macadamias OR Tamari roasted almonds OR dry roasted cashews OR Fava nuts (the plain ones.)  On occasion, if you do happen to be rummaging through my handbag…you might find some Frooze Balls. (Or, 'Froozies' – as I like to call them.)
Can you share with us your top two pieces of advice for people wanting to start a career in the wellness industry?
I have a hard-nosed approach to my advice-giving in this area. I also have a lot to say about this! If you want to be taken seriously in this industry then you need to take it seriously. Don't contemplate getting into this field unless you are a prepared to put in the hard work and get suitably qualified from a reputable institution (preferably you would gain a degree). You also need to get adequately experienced before you start advising people on what people should be doing for their health. The wellness industry is nothing like it is often portrayed in social media – frivolous + fun + fashionable. It's not something you 'get into', just because you don't like your current career - and you think you know 'a thing or two' about health (and food). In this industry you will be affecting people's biochemistry – and ultimately their general wellbeing. I personally wouldn't go to a 'wellness practitioner' unless I knew they were sufficiently qualified, experienced, and registered. I would also want a recommendation from a satisfied client, or to see some testimonials before I was confident enough to follow their advice.
Also, do not even consider this line of work unless you are a patient + empathetic + giving person.  These are important characteristics to have in this line of work because it's not an easy job dealing with unwell + frustrated + overwhelmed people.
And, finally check out your job options before you begin studying. Generally speaking, there are not that many jobs available in this industry - and they don't pay well (to be fair).  If you want to do well in this industry, then you have to pave your own way.  If you can do all of this, you'll find that a career in the wellness industry is incredibly rewarding.
Do you have a favourite affirmation or quote you remind yourself of when life throws you a few challenges?
Be bold and mighty forces with come to your aid. Basil King
What are your goals and aspirations for the coming year?
• To bring out my own product range – which I'm currently working on. It will be coming out in the next few weeks – in several stages.
• To carve out some time in my schedule to figure out how I'm going to turn my wee practice into a big clinic! I have the 'ark' – so to speak – and hopefully I'll be recruiting some like-minded practitioners in the not too distant future!
Thank you, Lisa - love your no-nonsense yet balanced approach! x You can connect with Lisa below...
Website - http://oomphhealth.co.nz/
Blog - http://lisasaid.so/
Instagram - @lisasaidso
Facebook - oomphandlisasaid.so