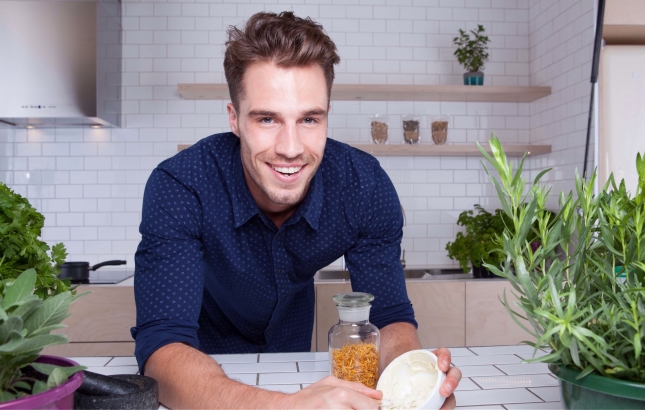 Wellness Influencer Interview: Reece Carter
Say 'G'day to this week's Wellness Influencer, the cheeky & down-to-earth Aussie naturopath & herbal medicine expert, Reece Carter! From the planter box to the pantry, the self-professed 'herb-nerd' can be found concocting healing lotions, poultices, tinctures and whole food recipes...Keep an eye out for his new book, The Garden Apothecary! Meet Reece...
Recent posts by Renée Leonard-Stainton
Conscious Beauty Edit for Plastic Free July
Over the past year and a half, I've been on... (read more)
Green Travel Tips - Your Guide to Eco-Friendly Travel
Thank you to New-Zealand based freelance... (read more)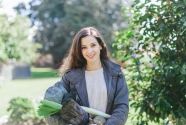 Wellness Influencer: Danijela Unkovich
I've always been impressed with nutritionist... (read more)
Please tell us a little about your business, yourself and how you got to where you are now in the wellness industry…
Reece Carter Naturopathy started in Melbourne as a full-time clinic, but after a couple of years I felt I needed to find ways to spread the message of natural wellness and preventative health a little wider. It started with a few contributions to blogs and the odd corporate wellness presentation. Then, on a bit of a whim, I decided to move to Los Angeles and explore what might be there for me. It was in LA, a city densely packed with wonderful creative types, that I met the team who helped me put together my web series "The Garden Apothecary", a collection of bite sized videos to inspire people to grow and make their own natural remedies at home. The response was great, and over time it's developed into a media presence across television, print and online publications, a soon-to-be-released book, and Dose Vitality Tonic.
What does 'living naturally' mean to you?
I think it's important to remember that our bodies want to be healthy. They have built-in feedback mechanisms to keep us on track. So for me, living naturally means honouring and respecting those functions. It requires us to be in tune with our bodies and respect their need for fad-free, whole food nutrition, their need for rest and recovery, and their need for healthy (but not excessive) levels of physical stress in the way of exercise. I think living naturally extends to a sense of emotional and spiritual wellbeing too. Ultimately it's a very personal experience. We should listen to what our bodies need, hear when things are a little off balance, and work to correct it with gentle, natural approaches where possible.
What does a typical day in the wellness world look like for you?
I don't really have a typical day anymore, and I love it that way! I thrive on variety, and so I love that my career has become filled with such varied activities. I have a few constants — I exercise at 6am every day, for example, and set aside one day a week to see clients —but for the most part every day is different. One day I might be tucked away for eight hours working on a book; the next I'll be on stage talking about the wonders of turmeric!
What are your top 3 tips for staying fit and healthy?
Number one is to prioritise your health. It needs to be of equal importance to professional success or your social life, rather than an after thought "if there's time". That's the key to making long-term, meaningful change. For example, carve out a daily, forty-five-minute time slot for your favourite form of exercise.
Two, shop the perimeter of the supermarket. There's no need for fad diets when you're eating a diet made of mostly whole foods that your grandmother would be able to name. If you're doing that, you're already 90% of the way there.
And finally, allow yourself to switch off. Modern lifestyle demand that we operate in 'fight or flight' mode for prolonged periods of time — to be successful at work, to make money, to care for a family, to maintain social networks — and we don't value rest as much as we should. Our bodies do though, and it's essential for mental and physical wellbeing that we find time to regularly switch off.
In a nutshell, what's your food philosophy?
Most of your food should come from plants, and if you choose to eat animal proteins then I recommend that it's done mindfully and with consideration for the environmental impact. Limit sugar and refined carbohydrates, and use healthy fats to satisfy your appetite without going overboard. We've seen extreme recommendations at both ends of the spectrum around fats, and I think it's time that we talked about balance instead.
Apart from that, I'll repeat myself from earlier: eat whole foods, and you're most of the way there!
What do you do to 'reset' the balance button when life gets a bit hectic?
As much as I sing the praises of meditation, I actually find it a really difficult thing to practice myself. Instead, I've found swimming is a meditative, calming experience for me. The gentle, repetitive, but purposeful movements and the controlled breathing help pull my focus back to the present. I find it both relaxing and rejuvenating. If my mind is cluttered, writing is another thing that helps bring clarity, and when all else fails I go for a nice long massage. Because self-care is important, right?
We're all about balance around here…What's your biggest indulgence?
I'm not much of a sweet tooth, so my indulgences tend to be things like pizza! The good news is, you can still make a pizza healthy(ish) by loading it with a rainbow of yummy veggies.
What healthy snacks might we find on your desk or in your handbag?
My gym bag (I think this would be the closest thing I have to a handbag) always has some raw nuts in there — brazil nuts are my favourite of mine — and maybe a banana. If I'm craving a little more indulgence, I make these fudgey choc-peanut butter protein balls to snack on. The only problem is, I tend to eat the whole batch in one sitting and then they're gone!
Can you share with us your top two pieces of advice for people wanting to start a career in the wellness industry?
Get a really great qualification so that you stand out. This industry is booming, which is wonderful. But as we grow it's important that we are all really well versed in traditional therapies as well as modern research. I got my Bachelor degree at Endeavour College of Natural Health. The sky is the limit, so if you have a vision for the kind of business you want to build and are prepared to take risks and work hard, then you really can create your dream career.
Do you have a favourite affirmation or quote you remind yourself of when life throws you a few challenges?
"Don't let the perfect be the enemy of the good."
I tend to put a lot of pressure on myself, and can beat myself up about not getting things perfect. I repeat those words — sage advice that an ex gave to me many years ago — to myself and refocus my gaze on all the things I did well, rather than the few things I didn't get absolutely right this time around.
What are your goals and aspirations for the coming year?
I have dreamt of writing a book since I was twelve, so I'm focusing all my energy on making the release of 'The Garden Apothecary' the best it can possibly be!
Thank you so much, Reece! I particularly love love love your favourite affirmation - thanks for sharing! You can connect with Reece via the links below! 
Website www.reececarter.com.au
Facebook ​@reeceandrewcarter
Instagram @herbnerdreece