Wellness Influencer Interview: Rose-Marie Swift
Rose-Marie Swift is a legendary makeup artist to the stars, founder of non-toxic, healing makeup line RMS Beauty & acclaimed change-maker/whistle-blower in the natural cosmetics industry.  I was first introduced to Rose-Marie when we were both writing for Miranda Kerr's KORA Organics blog & was stoked that she took the time to hang with me on her recent visit to NZ. We chatted about; how sauerkraut cured her dog (Frankie, she co-Moms her with Miranda) of tummy troubles, why she compares the beauty industry to the cocaine industry, her belief that skin is the mirror to your gut, the integrity of her award-winning makeup line & how she stays healthy + keeps it real (super real) in her line of work...
Recent posts by Renée Leonard-Stainton
Conscious Beauty Edit for Plastic Free July
Over the past year and a half, I've been on... (read more)
Green Travel Tips - Your Guide to Eco-Friendly Travel
Thank you to New-Zealand based freelance... (read more)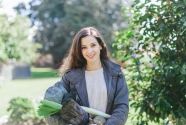 Wellness Influencer: Danijela Unkovich
I've always been impressed with nutritionist... (read more)
What does 'living naturally' mean to you? Stopping the onslaught of chemicals and processed foods, fungicides, pesticides, Going to a plant-based, whole foods based diet rather than all the chemicals out there. To me, that is living naturally because the only way you're going to live is if your body is alive! It's a lot more than just having or using an organic, green makeup brand. It's taking the right supplements, having probiotics, having green juices, having organic food. Your skin is a mirror to your gut. If your gut is screwed up, you know, coca colas, sugar all that synthetic crap, you're in big trouble. Period. Simple as that! 
What does a typical day in the wellness world look like for you? 
Well, the first thing I do in the morning is I take a probiotic and green juice. I give it to my dog too, and sometimes, we have sauerkraut too. It gets chopped up in her food too and I'm telling you, it's made her so healthy! It's beyond! I tried probiotics for her tummy troubles and they didn't work but sauerkraut  - raw, organic (she loves it!) worked. Animals are smart. We have to watch the animal kingdom. They know when they are getting sick. Animals eat grass when they need to be sick, clay to get the toxins out of them that they may have accumulated. Why aren't we paying attention to what they do instinctively? We can't do anything instinctively anymore because we're exposed to so many toxins! I always compare the beauty industry to the cocaine industry. You've got your cheap street cocaine and then you've got your movie star cocaine. The cosmetic industry, the food industry, it is all exactly the same. Everybody thinks that there is one size fits all, but it doesn't work that way. Because no one is regulating the online influencer advertising, what is being said about products now is often complete bullshit. 
What are your top 3 tips for staying fit and healthy
Obviously food for one thing. You know, I also do intermittent fasting every once in a while. It keeps the mind really alert. Meditating is really, really good too to quiet down the energy. I travel too, to calm me down. I love travelling. You're just going somewhere else, you're closing your mind off from the same nonsense every day in the same city, same people. You expose yourself to different things and it just gives a bit of a different mindset. It gets rid of negativity! 
In a nutshell, what's your food philosophy?
Don't eat anything if it is packaged or canned, don't eat it. From the garden, from the ground. Prepare it - stop being lazy. You have time, make time. I can't stand people saying that they don't have time, they do. 
What do you do to 'reset' the balance button when life gets a bit hectic?
Go visit my sister, she calms me down! My sister is a psychic medium so she gives me the odd little reading or something like that. She's a healer too. If I'm like really freaking out, she'll do a healing to calm me down. You know what, I'm going to be really honest and it sounds a little crazy, but I turn on the TV. It gets me completely out of my head. I just lie on the couch and eat a healthy little meal that I cook for myself and sit on the couch and watch nonsense. It's just simple. You know, and it just lets me escape for a while. 
We're all about balance around here…What's your biggest indulgence?
I love ice cream! Full dairy ice cream, I don't usually eat that kind of stuff but when summer comes around and I'm travelling...I want an ice cream cone! Am I allowed to be superficial? I love to travel and stay in really nice hotels. And another thing,  I remember flying all around the world with models and they would be up there in business class and I'd be in economy and I used to say to myself "I will never fly economy again". If I have my way, I will never fly economy again"...so now I always have a business or first class ticket! That's my indulgence. I don't indulge in like the designer shit and all the clothes, to hell with that man. I'd rather be in nice hotels,  nice restaurants...I don't understand the superficiality of some people. Like for me to have a full-on designer outfit with the shoes and the bag...that doesn't do a thing for me. That does nothing. And I was in that industry for years! Most of it is all disposable clothing anyway. Sorry guys, but it is! 100% healthy and organic food is my indulgence too. 
What healthy snacks might we find on your desk or in your handbag? 
We just had Little Bird Macaroons - yum. I keep pumpkin seeds and rice crackers too for on the plane instead of big globs or flour. they serve. Fiji water - love that. We have magnesium drops that we put in our water and I always have chlorella tablets too. 
Can you share with us your top two pieces of advice for people wanting to start a career in the holistic beauty industry?
You know what, it's not a fly in the pan type like "Oh, I'm going to do a brand!" That's really driving me nuts right now because everybody just thinks that they are going to jump up and do something. Know what the hell you are doing! Don't just go to the lab and slap your name on it. Know what you are doing, defend yourself with what's in it and know why it's in it. Don't listen to the labs because they're not always forthcoming. You know, if you don't know your stuff, you're going to get sucked in. It's not that easy. I've paid my dues. I know what I'm talking about when I talk and I also do major research by phoning up these guys, these doctors and that that write books. They're not left alone from me. I stalk them until I get the information I want. I then share everything with people, what I know. It's all about being the teacher. It's the only way I can do what I'm doing. I can't just pop my brand out and think people are going to buy it. I've got to teach people and tell them why
Do you have a favourite affirmation or quote you remind yourself of when life throws you a few challenges?
Sometimes I just let my little voice say, "Who cares?" Like, "WHO cares?!" And then that calms me down a lot when I say that. I do that a lot. I don't even say who cares actually, I say " Who fucking cares?!" That's what I say. I just relax and let it go. I have to admit, I feel really happy when I say it. Like if something really bad happens, like something happened at our lab, and I said to my girls, "Elaine, you know what, just take it one day at a time". And she goes, "Yeah, you're right" And I said, "What are we in a hurry for. We're not in a hurry. Let it happen."
What are your goals and aspirations for the coming year?
Just to keep doing my brand. I'm really getting off on it, you know? I've had opportunities to sell and all that stuff and that's just not what I want. If I don't have control of this, it's going to turn into a train wreck. They're going to put cheap coconut oil, cheap mineral. You know, I really stand behind my ingredients and my philosophy and I want to keep doing what I do and have it build. Like I said, I'm not in a hurry. Most people are like "Oh my God, when are we going to get 10 million dollars for our brand...it's like, who cares? As long as it is true to my beliefs, true to my philosophy, true to what I want. I want to be a healer. I want to have no regrets when I die. I want to know that I put a good stamp on the beauty industry rather than going "Oh yeah, man, I just got a 200 million dollar contract, you know? Nah!" I could have done all of this really cheaply and walked into all of the stores and sold to all of the cheap drug stores. But I can't, I have a little too much integrity. I want the best of the best. Whereas it's almost like, woah, calm down, it doesn't need to that good. When you're an artist, you worry more sometimes about your peers- what they think of your product. It affects me deeply to think maybe someone in the industry doesn't like my products but I find out that all of the big makeup artists including Pat McGrath uses my stuff. You know, that makes me feel really good. Because they're the ones who really know if something's good or not.
Thank you so much, Rose-Marie! x
Website www.rmsbeauty.com
Blog www.beautytruth.com
Instagram @rmsbeauty
Facebook @rmsbeauty