Wellness Influencer Interview: Sarah Thompson
"I think food is amazing! I believe a healthy food relationship is about balance. I think it's important to nourish your body, but to also enjoy what you eat. I also really believe in being aware of where our food comes from. Did it come from an animal, plant or was it manufactured? Was it grown locally or imported oversees? My dad is a farmer so I grew up knowing where everything on my plate came from. I had a vegetable patch aged 10!"
Recent posts by Renée Leonard-Stainton
Conscious Beauty Edit for Plastic Free July
Over the past year and a half, I've been on... (read more)
Green Travel Tips - Your Guide to Eco-Friendly Travel
Thank you to New-Zealand based freelance... (read more)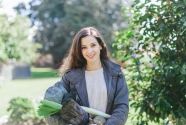 Wellness Influencer: Danijela Unkovich
I've always been impressed with nutritionist... (read more)
NAME: Sarah Thompson
OCCUPATION: Founder of GoodFit PR
Please tell us a little about your business, yourself and how you got to where you are now in the wellness industry…
I'm the Founder and Director of GoodFit PR, the first agency dedicated to promoting health, fitness and wellbeing. We represent some amazing people and brands in Australia and internationally. Looking back, it's no surprise I'm in PR. I was constantly in trouble at school for talking to other kids through class and distracting them, while I somehow managed to get all my work done.
What does 'living naturally' mean to you?
Choosing the authentic. Whether it's what we eat, how we act or how we treat the environment, a natural life is a genuine one.
What does a typical day in the wellness world look like for you?
There is no typical day in PR! In the past week I've launched a new fitness program, organised clothes for a celebrity's fitness shoot, hosted a wellness networking event and met the Prime Minister! I always make time to do something active every day – whether it's a gym session, dance class, hula hooping or taking my pet rabbit for a walk in the park. Yes…I walk my rabbit! Running a business involves long hours, but I also can't go through a day without stepping outside to get fresh air and see the sky.
What are your top 3 tips for staying fit and healthy?
Enjoy yourself – Make everything you do in support of your health and fitness fun. You should want to do it for the rest of your life!
Be flexible - How you like to exercise and what you like to eat will change, so be sure to try new things.
Be yourself – I remember my Godmother once gave me that advice before I went for one of my first big job interviews. I was myself, and I didn't get the job. I'm eternally thankful for that, because I might not be where I am now!
What do you do to 'reset' the balance button when life gets a bit hectic?
This isn't something you'd hear many PR people confess, but switching myself off electronically is something I do when I need to. Turning off my phone is a very scary propostion, but when I do it, it really helps to quiet my mind and be present.
We're all about balance around here…What's your biggest indulgence?
I love getting regular massages, and I can't go for long without getting a good manicure and pedicure.
What healthy snacks might we find on your desk or in your handbag?
Bananas and those mini packs of sultanas that are really meant to be for kids' lunchboxes!
Can you share with us your top two pieces of advice for people wanting to start a career in the wellness industry?
Make what you do or what you offer to people sustainable – because wellness is life long investment. I also think that it's important not to be everything to everyone. The best decision I ever made was to focus my energy on what I'm passionate about.
Do you have a favourite affirmation or quote you remind yourself of when life throws you a few challenges?
'One day at a time' is one I think of often. While I definitely believe it's important to plan, this saying always helps me to be present and just enjoy the moment.
Thank you so much Sarah. It's awesome to see someone so authentically promoting businesses aligining with their passion! x
Connect with Sarah and GoodFit PR...
Facebook - GoodFit PR
Twitter - goodfitpr
Instagram - @goodfitpr