Wellness Influencer Interview: Stacey Nelson
I had the pleasure of witnessing one of Stacey Nelson's powerful and fun kid's yoga classes at the Wanderlust festival in Taupo, New Zealand. The class moved me to tears as I watched a circle of tiny yogis stretching their bodies and minds. Stacey is based on the Sunshine Coast in Australia, but she shares her gift worldwide through festivals, yoga teacher trainings and her DVDs. Read on for an insight into this lovely wellness warrior's world...
Recent posts by Renée Leonard-Stainton
Conscious Beauty Edit for Plastic Free July
Over the past year and a half, I've been on... (read more)
Green Travel Tips - Your Guide to Eco-Friendly Travel
Thank you to New-Zealand based freelance... (read more)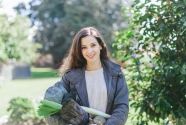 Wellness Influencer: Danijela Unkovich
I've always been impressed with nutritionist... (read more)
Please tell us a little about your business, yourself and how you got to where you are now in the wellness industry…
I created and facilitate the Inspired Kids Yoga Teacher Training to build a community of quality, authentic, heartfelt teachers for Kids and Teens. I share yoga with children from age two to teens; teach yoga in schools; in yoga studios; at Wanderlust Festival and work as a Yoga Therapist in a children's hospital ward. I co-produced the Kids Yoga DVD series, Light Up Little Lights which airs on Food Matters TV.
I always knew I wanted to be a teacher and work with children. I had a meandering pathway to where I am now, starting off studying to be a Primary School teacher, before working in Network TV on a Children's TV show, then worked as a Kids Fitness Trainer, before finally finding my calling as a Kids Yoga Teacher 11 years ago. I found yoga in the year 2000 when I was highly anxious and did my first teacher training in 2006 at the same time that I was diagnosed with an autoimmune thyroid condition. Yoga & meditation have been my saving grace during the challenging times. Over the years of teaching yoga to children and adults, I have run retreats, teacher trainings, weekly classes, private sessions and produced 5 DVDs and soon… an online video series for teens and for Yoga Therapy for thyroid and adrenal health. 
What does 'living naturally' mean to you?
Being in harmony with the natural rhythm of your body and the natural world around you.
What does a typical day in the wellness world look like for you?
It's changed a lot over the years! It used to be running around from session to session. Now, I have reduced my week to week classes and focus on bigger events, which means less time in my car and more time at the computer, in my diary and notebook - planning & writing & doing admin. (This is the less glamorous behind the scenes side of being a yoga teacher that no one posts on Instagram!)
I wake up at 5am on weekdays and around 6am on the weekends. I practice meditation and set my intentions for the day. Then I do some strength exercises and yoga and go for a brisk walk on the beach. Back home for breakfast, and I prepare our dinner in the slow cooker on some of mornings or do other household chores. Then I get into my home office and try to do my most important task of the day first whilst I am fresh. I aim to have 5 minute breaks every hour to do a handstand or yoga stretch to keep me fresh.
A few afternoons each week I head out to teach in the early afternoon for classes. I no longer teach night time classes, which has been the most profound and helpful change for my own health, as I used to come home from classes then do some admin work late into the night. Now I am home and eating dinner with my husband by 6.30pm and head off to the yoga room to do some calming yoga to wind down and prepare for bed around 9pm. (I am enjoying this pre-baby luxury whilst I can!)  
I facilitate my retreats and teacher training courses on the weekends so those days are 8 hours of teaching and usually end with a magnesium bath in quietness.
What are your top 3 tips for staying fit and healthy?
Heal the gut: all health stems from the health of our gut. Start there.
Reduce stress and get more sleep.
Be: Make time to practice how to be calm & quiet; be in nature; be with loved ones who make you laugh; be you.
In a nutshell, what's your food philosophy?
Eat REAL food.
What do you do to 'reset' the balance button when life gets a bit hectic?
I go to the beach and put my feet on the sand and consciously breathe. I put my feet in the water and imagine the ocean washing away the tension as the waves roll back.
I also do this as I pull the plug out after a candle lit bath.
We're all about balance around here…What's your biggest indulgence?
Chocolate cake (GF of course!)
What healthy snacks might we find on your desk or in your handbag?
Date & almond bars.
Can you share with us your top two pieces of advice for people wanting to start a career in the wellness industry?
Live the life you want to share with others so your teaching comes from a place of authenticity and embodiment
Be you. People connect with people. It's your unique story; journey and presence that will draw people in to learn from you.
Do you have a favourite affirmation or quote you remind yourself of when life throws you a few challenges?
"One step at a time"
What are your goals and aspirations for the coming year?
To share the Inspired Kids Yoga Teacher Training course with as many aspiring Kids Yoga teachers in Australia & in NZ as possible and to have a healthy pregnancy late in the year.