Wellness Influencer Interview: Tom Cronin
"My day starts around 5am, where I will get up, scrape my tongue with a tongue scraper, brush teeth, drink 2 glasses of warm water with a dash of apple cider vinegar or lemon juice,  I would do some yoga and meditate, most days at the beach. After breakfast (usually organic quinoa porridge with home made nut milk) I would ride my bike to my office  back in Bondi Beach and follow up with social media, blogging, emails, film production business or meetings. If I'm not teaching meditation or mentoring that day then I would head home for family dinner. I am usually in bed by 10pm."
Recent posts by Renée Leonard-Stainton
Conscious Beauty Edit for Plastic Free July
Over the past year and a half, I've been on... (read more)
Green Travel Tips - Your Guide to Eco-Friendly Travel
Thank you to New-Zealand based freelance... (read more)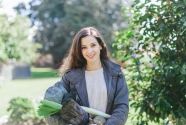 Wellness Influencer: Danijela Unkovich
I've always been impressed with nutritionist... (read more)
NAME: Tom Cronin
OCCUPATION: Meditation teacher, Retreat Co-ordinator, Keynote speaker, Mentor, Film Producer
Please tell us a little about your business, yourself and how you got to where you are now in the wellness industry…
I began my career as a broker in finance, trading bonds and swaps for the banks when I was 19 years old. After a few years of living a very unbalanced lifestyle I began to experience depression and panic attacks. At that point I started researching tools for stress management. I discovered meditation and never looked back. It became a daily part of my life and in time I felt compelled to pass on what I learnt with others. So I completed teacher training in India and Bali then became a part time teacher while I continued my career as a broker. I would leave the trading room floor at 5.30pm then go to my meditation room and teach people how to meditate!
Eventually I took the leap to whole heartedly commit to passing on this powerful technique of meditation full time.
What does 'living naturally' mean to you?
Living naturally is when your mind and body is aligned with natural law. That is when you eat naturally, ie food in its purest state, and act naturally, ie actions that come from the heart and from your Truth.
What are your top 3 tips for staying fit and healthy?
Meditate twice daily.
Stretch every day
Drink organic green smoothies evrey day
In a nutshell, what's your food philosophy? 
Listen to your body. Every body is different and I recommend tuning into your own needs and keeping it as pure and natural as possible. I personally prefer to stay away from gluten, sugar, and dairy where possible.
What do you do to 'reset' the balance button when life gets a bit hectic? 
Meditate.
We're all about balance around here…What's your biggest indulgence?
I have to say I am a sucker for a big dollop of King Island Cream on a bowl of strawberries or gluten free brownies! (sshhh!)
What healthy snacks might we find on your desk or in your handbag?
Gluten free slices of toast, nori seaweed sheets, tubs of homus and avocados.
Can you share with us your top two pieces of advice for people wanting to start a career in the wellness industry?
Believe in yourself and your knowledge.
Think BIG! Be a game changer!
Do you have a favourite affirmation or quote you remind yourself of when life throws you a few challenges?
Yogasthan Kuru Karmani- Established in Being Perform Action
Thank you Tom! 
http://www.scienceofstillness.com/new-home-page-with-video/
Twitter @Tom_Cronin