Benefits of Buying Organic Baby Clothes
Once blessed with the responsibility of nurturing a precious new life, it is natural that many new mothers start exploring the benefits of organic food, natural care products and organic baby clothes. I've compiled a list some of the benefits of choosing organic materials for your baby (in particular, cotton) below, but I'd like to make a little something clear first. I know for most of us, it is just not realistic to be able to afford to exclusively dress our babies in organic clothes. Like any of my advice geared at living a more natural and sustainable life…baby steps are the way to go. Small changes can make a big difference! At the end of the day, my intention is not for a parent to read about all the benefits of organic clothing for their wee one, only to slump back and feel guilty that they can't afford to follow suit 100%. It's about arming you with knowledge so that you can make choices that align with your ethos and budget, where possible, where desired. So, what are the benefits of investing in some organic pieces for your bubba's wardrobe?

  
Recent posts by Renée Leonard-Stainton
Conscious Beauty Edit for Plastic Free July
Over the past year and a half, I've been on... (read more)
Green Travel Tips - Your Guide to Eco-Friendly Travel
Thank you to New-Zealand based freelance... (read more)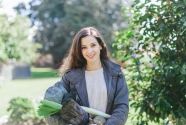 Wellness Influencer: Danijela Unkovich
I've always been impressed with nutritionist... (read more)
Your Baby's Health
A baby is the most susceptible to its environment in its early years and a baby's skin is more porous than our adult skin, meaning that they absorb toxins at a substantially higher rate than us. The chemicals used to grow and manufacture non-organic cotton can be absorbed by the body through the skin, and in the case of a baby's tender skin, this can cause harm to baby's health and safety through allergic reaction, rash, asthma, chemical sensitivities. Organic cotton is the ideal fabric for a baby's sensitive skin as it is grown and processed without the use of harmful chemicals.
Durability
Organic cotton garments are strong because they've gone through significantly less processing than regular cotton garments. Organic clothing can typically be washed up to ten times more than clothing made from conventional cotton. So, while yes, they are generally more expensive, you're also likely to get more mileage out of organic cotton clothing. If you're a parent planning on having multiple children, then this investment will truly add up because you can save them to hand down to your next child.    Not only are longer wearing garments better for your pocket, but since they're kept longer they create less waste too.
The Green Choice
We generally regard cotton as a natural, harmless fibre. However, did you know that cotton is considered the world's "dirtiest" crop? The cotton plant requires more pesticides and fertilizer than any other crop we grow. More than 25% of the world's pesticides and 16% of the world's insecticides get dumped on this one crop. Conventional cotton is grown and harvested through a chemically intensive process to control the plants development, ward off pests and prepare the crop for harvest. Once conventional cotton has been harvested, it is normally bleached, dyed and finished with another concoction of chemicals, many of which are known to be toxic and allergenic. Organic production methods replenish and maintain soil fertility, reduce the use of toxic pesticides and fertilizers, and contribute to biologically diverse agriculture.
Helping Other Families
Over twenty thousand deaths occur each year from pesticide poisonings and The World Health Organization states that the majority of these deaths come from cotton farms. Organic cotton farming promotes clean air, water and soil which means the children and families living in these farms don't have to suffer the same fate. Also, if the clothing is fair trade certified, you can keep bubs warm knowing the people who made those clothes were paid a fair price for their work.
By choosing organic cotton clothing you are supporting sustainable farming practices, reducing the pesticide contamination of our earth and increasing the quality of our health.
Live well, live long, live naturally
Renée x
Photo is of baby Felix wearing Nature Baby  organic cotton