Four Cornerstones of Good Health - Part 2
How are we feeling after last week's focus on a positive mental attitude? As we discussed, changing your outlook and internal dialogue takes time and consistent effort, but I hope that any changes you've made are starting to have a flow on effect – influencing the energy, interactions and successes in your world.  Positivity is undeniably an essential step of the four cornerstones that make up the foundation of good health, especially when we look at one of the aspects that makes up one of this week's focus – exercise! Here's a quick recap on those four foundations;
Recent posts by Renée Leonard-Stainton
Conscious Beauty Edit for Plastic Free July
Over the past year and a half, I've been on... (read more)
Green Travel Tips - Your Guide to Eco-Friendly Travel
Thank you to New-Zealand based freelance... (read more)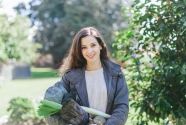 Wellness Influencer: Danijela Unkovich
I've always been impressed with nutritionist... (read more)
A Positive Mental Attitude
A Healthy Lifestyle: Exercise and Sleep and Health Habits
A Health-Promoting Diet
Supplementary Measures
Now, I'm no personal trainer, supermodel, or ripped athlete, but as a Naturopath, I'm constantly reminded about the importance of staying fit and I know that exercise is absolutely vital for good health. Regular exercise is obviously a major key to good health. We all know this, yet excuses likes lack of time, energy, equipment and motivation can be given. Are these excuses valid? How important is your health?
While the immediate effect of exercise is stress on the body, with regular exercise, the body adapts; it becomes stronger, functions more efficiently, and has greater endurance. The entire body benefits from exercise, largely as a result of improved cardiovascular and respiratory function. Simply stated, exercise enhances the transport of oxygen and nutrients into cells. At the same time, it enhances the transport of carbon dioxide and waste products from the tissues of the body to the bloodstream, and ultimately to the eliminative organs. As a result, regular exercise has loads of benefits, including;
Musculoskeletal System;
Increase muscle strength
Increases flexibility of muscles and range of motion
Produces stronger bones, ligaments and tendons
Lessens chance of injury
Enhances posture and physique
Heart and blood vessels;
Lowers resting hear rate
Strengthens heart function
Lowers blood pressure
Improves oxygen delivery throughout the body
Increases blood supply to muscles
Bodily processes;
Improves the way the body handles dietary fat
Reduces hear disease risk
Helps lower blood cholesterol
Prevents osteoporosis
Improves immune function
Aids digestion and elimination
Increases endurance and energy levels
Promotes lean body mass; burns fat
Mental processes;
Provides a natural release from pent up feelings
Helps reduce tension and anxiety
Improves mental outlook and self-esteem
Helps relieve moderate depression
Improves the ability to handle stress
Stimulates improved mental function
Induces relaxation and improves sleep
Increases self-esteem
If the benefits of exercise could be put in a pill, you would have the most powerful health-promoting medication available.
Creating an effective exercise routine;
- Recognise the Importance of physical Exercise
- Select an activity you enjoy
- Do It Often – A minimum of 30 mins at least three times a week is necessary to gain any significant cardiovascular benefits from exercise.
- Make It Fun – If you can find enjoyment in exercise, you're much more likely to exercise regularly. One way to make it fun is to get a workout partner.
- Stay Motivated – vary your routine –doing the same thing every day becomes monotomous and drains motivation.  Keep track of your progress helps motivate you to continued improvement.
The better shape you're in physically, the greater your odds of enjoying a healthier and longer life. Researchers have estimated that for every hour of exercise, there is a two-hour increase in longevity. That is quite a return on investment!
Sleep is absolutely essential to both the body and mind. Impaired sleep, altered sleep patterns, and sleep deprivation impair mental and physical function. Exactly how much sleep an individual needs varies from person to person. Sleep needs tend to decrease with age, for example, a one year old requires about 14 hours a day, a five year old about 12 and adults, about 7 to 8. In addition, women tend to need more sleep than men. As people age, their sleep levels may decline, but so does their ability to sustain sleep, probably as a result of decreased levels of important brain chemicals such as serotonin and melatonin.
Dreams can sometimes aid us in working out the issues of our waking lives. They allow us to view what is happening and what is imprinted on our subconscious mind and are often symbolic attempts to sort among our choices in life. The problem with trying to interpret every dream is that not every dream will be meaningful. However, it's important to examine every dream for possible clues to personal growth. Often dreams speak to us in symbols, so it may not be clear at first.  Examine each person or item in the dream from a simplistic point of view; what does it mean for you? To help you with interpreting dreams, here are some important questions to ask:
What are you doing in the dream?
What is the story line?
What were the feelings you experienced in this dream?
What was your mood upon waking?
How does this dream relate to what is going on in your waking life?
What are the insights that you have gained from this dream?
Without question, a healthy lifestyle improves the quality and length of our life. The key components of a healthy lifestyle are avoiding cigarette smoke, following a regular exercise program, and practicing good sleeping habits. Lifestyle definitely comes down to choices. If you want to be healthy, simply make healthy choices. Choose to not smoke. Chose to find a physical activity that you enjoy, and do them often. Make getting a good night's sleep a priority, and have fun with your dreams. These simples lifestyle choices will have a profound effect on your health and the health and quality of your life.
Live well, live long, live naturally 
Renée x