Reclaim your Pre-Baby Body
You made a baby! It's amazing, it's a miracle, it's everything you ever dreamed of...  but man it's been a long 9 months and your body has morphed into something squishy that you no longer recognise. 
Recent posts by Amanda Clark
Safe Exercise During Pregnancy
You're pregnant - congratulations!  You're... (read more)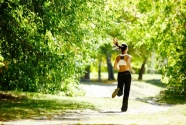 Barriers to Exercise – What's Holding You Back?
Ok, let's hear it.  Why can't you exercise... (read more)
How to Stay in Shape this Christmas
The way I see it, in order to keep weight... (read more)
You want to get your pre-baby body back (and hopefully you started exercising prior to and during pregnancy so the road won't be as tough), but how soon is too soon to exercise?  And how hard should you go?  Where do you start?
Consult Your Doctor
See your doctor to check how your body has recovered physically from childbirth and discuss with them an appropriate exercise program.  Seek guidelines on the type, duration and intensity of exercise that's right for you.   
Start Out Slow
Your body has been through a lot so give it a chance to catch up with your eagerness to return to lycra-loving form.  Decrease your weights, do fewer reps and shorten your cardio sessions.  Most doctors recommend a 6 week go-slow period after birth, especially if you've had a ceasarean. 
Exercises To Do/Avoid
The type and intensity of exercise you can do after childbirth will depend greatly on what your fitness was like prior to and during pregnancy.  Recommended postnatal exercises include brisk walking, swimming, aqua-aerobics, yoga, pilates, low-impact aerobic workouts, light weight training and cycling.  Avoid any activities that require rapid changes in direction i.e. high-impact aerobics, running and contact sports.  As above, see your doctor for further clarification.
Give Yourself a Break
Although gossip mags seem to promote celeb post-baby body watch as some sort of olympic sport, keep in mind the coaching squad of nannies, personal trainers, dietitions and personal assistants behind the scenes that allow the freedom to do this. 
It's not a race – and exercising like a maniac  to fit into your skinny jeans in 2 weeks isn't the answer.  Just be patient, you'll get there!