Top 13 Wellness Trends for 2013
Last year the wellness sphere was all over green juices, meatless Mondays and superfoods (these are all still totally on my 'what's hot' list by the way), so what health trends is 2013 looking likely to serve up for us?  In no particular order, here are 13 health, wellbeing and fitness trends that I see popping up on our radar in the coming months..
Recent posts by Renée Leonard-Stainton
Conscious Beauty Edit for Plastic Free July
Over the past year and a half, I've been on... (read more)
Green Travel Tips - Your Guide to Eco-Friendly Travel
Thank you to New-Zealand based freelance... (read more)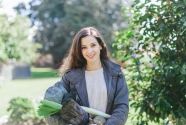 Wellness Influencer: Danijela Unkovich
I've always been impressed with nutritionist... (read more)
1)  App'y Health:
Track your sleep, calorie intake, run, mood, menstrual cycle . . . there's an app for tracking seemingly everything health related these days. Expect health buffs to become data-crunching fiends with their smartphones, Nike Fuel Bands, and FitBit gadgets. Heart-rate monitors and other gadgets, which are often linked to these apps, are becoming sleeker, smaller, less expensive and hugely popular.
2) Teff vs. Quinoa: Teff is likely to be quinoa's rival in 2013. Teff has an attractive nutrition profile, being high in dietary fiber, iron, protein and calcium. It's similar to millet and quinoa in cooking, but the seed is much smaller, so cooks faster. It's grown in Ethiopia and is often cited as a dietary staple among elite runners.
3) Turmeric is the Spice: The use of turmeric has been rooted into the history of natural medicine and healing
& recent research into its benefits has it popping up in new products all over the show. Check out this remedy for soothing turmeric milk. Nature's anti-inflammatory right there on your spice rack…
4) Wellness in the Workplace: Employers are realizing that working health into the corporate agenda benefits waistlines and bottom lines. With more companies offering gym discounts and group health activities, if you're in the market for a new job, it may be worth looking into what prospective companies are doing to incorporate health into their workplace.
5) Vegan Mainstreaming: No longer reserved for hippies or the hip in Hollywood, going vegan is being embraced as a viable health alternative and creative menu options are popping up all over the show.
6) Online Fitness: Life just keeps getting busier for most of us and getting to the gym or a class can be tricky, hence the rising popularity of the likes of online yoga and fitness classes. All you need is the internet to help get you moving and motivated, wherever you are in the world!
7) Going Against the Grain: Consumers increasingly see the "GF" logo as a guide to healthier eating and even 'mainstream' brands such as Wendy's  or Domino's are now even embracing the trend.
8) Caveman Diet: People are looking to the past for diet inspiration in the form of the Paleolithic ('Paleo') Diet. Modelled on the diet of the hunter-gatherers of the Stone Age, the diet consists mainly of grass-fed meats, fish, vegetables, fruit, nuts and seeds.
9) More Hybrid Fitness Classes: Hybrid classes combine two (sometimes completely opposite) exercises for an effective, time-saving workout that targets multiple areas of your body. Yogalites, Barre Body, Piloxing…what's next?
10) Sweet Decline of Sugar: Although this trend has been gaining momentum for some time, it seems everyone is now jumping aboard the no-sugar bandwagon. Outside of just cutting down on lollies, soft drinks and chocolate, consumers are now becoming savvy about the sneaky sugars added to juices, condiments, breads and cereals.
11) Social Health: Most health-related apps and devices now integrate Twitter and Facebook, giving options to allow friends access to food diaries and allowing keen runners to challenge friends and family. Keeping each other accountable to goals means it's harder to give up!
12) Functional Fitness: Functional fitness exercises train your muscles to work together and prepare them for daily tasks by simulating common movements you might do at home, at work or in sports.
13) Physician Referrals: More and more, physicians are partnering with health and fitness professionals and facilities to make it easier for their patients to include exercise and lifestyle changes into their overall wellness plans.
Live well, live long, live naturally
Renée x