Video: Renée's Eco Baby Shower
I was so blessed to be showered with love & green goodies at an eco/green themed baby shower that my dear girlfriends threw for me in Chelsea Bay, Auckland, New Zealand! We soaked up the sun & happy vibes in the very same spot that my husband & I met, & then later married.
Recent posts by Renée Leonard-Stainton
Conscious Beauty Edit for Plastic Free July
Over the past year and a half, I've been on... (read more)
Green Travel Tips - Your Guide to Eco-Friendly Travel
Thank you to New-Zealand based freelance... (read more)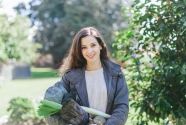 Wellness Influencer: Danijela Unkovich
I've always been impressed with nutritionist... (read more)
From gluten-free treats, fresh fruit platters to bamboo disposable cutlery, it was a beautiful celebration for both Mother Nature & Mum-To-Be! Thank you so much to all who made it such a special day, & to my soul-sister, Moira Ganley o
f Flip Flop Interactive
, for the video.
Live well, live long, live naturally
Renée x