Wellness Influencer Interview: Brenda Janschek
Brenda Janschek is passionately bringing scrumptious goodness into the homes of families throughout Sydney. Vivacious and entertaining, she is a veritable library of information on all things health, nutrition and family wellbeing. An avid spokesperson for children's health, organic living and family wellbeing Brenda is a health coach, speaker and wellness blogger. Meet this beautiful being...
Recent posts by Renée Leonard-Stainton
Conscious Beauty Edit for Plastic Free July
Over the past year and a half, I've been on... (read more)
Green Travel Tips - Your Guide to Eco-Friendly Travel
Thank you to New-Zealand based freelance... (read more)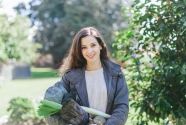 Wellness Influencer: Danijela Unkovich
I've always been impressed with nutritionist... (read more)
Please tell us a little about your business, yourself and how you got to where you are now in the wellness industry…
Hi there, my name is Brenda Janschek. I live in the beach suburb of Coogee in Sydney, with my two beautiful kids aged 7 and 9, and my husband, who I've been with for 22yrs. I love where I live, and I adore my family! I am a Nutrition Coach, running my business Brenda Janschek Health & Lifestyle. I'm completely passionate about children's health in particular. I want to see that their nutritional requirements are properly met through real, nutrient-dense foods so they can live their whole life to the fullest, and pass their knowledge and good health onto the next generation. My path into the wellness industry came about due to my experience with infertility.  The treatment from an amazing naturopath ignited a passion in me to educate mums, children and teachers about the importance food plays in achieving optimal wellbeing.
Blogging,  presenting , coaching, workshops  and  kids cooking classes are my means for getting the wellness message out there.
What does 'living naturally' mean to you?
Living naturally means eating real food, clean food, whole foods, and staying away from processed foods. It means using natural skin products with no nasties and non-toxic products in my home. My family and I like to take advantage of where we live and spend time down at the beach. We also love our 'little oasis' back garden. Both allow us to connect with nature and get a good, deep 'grounding'.
What does a typical day in the wellness world look like for you?
A typical day starts with a water, lemon , apple cider vinegar tonic followed by a refreshing and energising walk around my beloved  local beaches. Once home, I usually have a breakfast smoothie or chia pudding before getting down to the business of business - writing articles for my blog, sharing tips on my social media,  creating and converting recipes, conducting kitchen makeovers, food tours, workshops or kids cooking classes.
On a lucky day I get to have a herbal tea or organic lunch with a fellow wellness gal down at Earth To Table, Bread and Circus or Kitchen by Mike.
What are your top 3 tips for staying fit and healthy?
Move your body – as many ways as possible!
Think positively – always
Stay true to yourself
Let food (and water) be your medicine (sorry, that's four!)
In a nutshell, what's your food philosophy?
The things that are important to me are connecting with my family over at least one meal each day, which is usually dinner. This is where we can chat, share, enjoy and celebrate together. I also encourage kids into the kitchen from as young as possible. My son is now 9yrs old and calls himself a chef and feels very comfortable and confident in the kitchen. The benefits of this are countless. Every bite of food is an opportunity to nourish ourselves, so eat the rainbow, try new foods, experiment, explore and create.
What do you do to 'reset' the balance button when life gets a bit hectic?
I take a break and breathe, slow down and try to equalise when it all gets a bit too much. The brain can get stressed and overloaded. Sometimes you need to give yourself a 'time out'.
Having a catch-up with a girlfriend when time permits and a cup of herbal tea always helps recharge to the batteries.
Hanging out with my kids is incredibly grounding and helps me to reset. They bring me back into the moment and truly remind me about what is really important.
We're all about balance around here…What's your biggest indulgence?
I'm all for food for the soul! This usually comes in the form of a homemade date & cinnamon muffin,  raw cacao ball or some other delicious treat. Oh and I don't mind the occasional glass of Shiraz, vodka or French champagne!
What healthy snacks might we find on your desk or in your handbag?
You will always find a glass of water on my desk or a bottle of water in my handbag. I love organic herbal teas and will usually go for green tea or lemongrass and ginger in the morning, while the exotic herbs in a caffeine free chai in the afternoon seem to give me the lift I need.  A handful of activated nuts or homemade healthy treat goes really well with the chai, and are generally within close reach.
Can you share with us your top two pieces of advice for people wanting to start a career in the wellness industry?
I would say figure out what you are passionate about, which means:
a) who it is that you really want to help, and
b) what area of health interests you
This will help you decide whether you want to be a naturopath, nutritionist ,  homeopath, health coach, life coach, yoga instructor or personal trainer. And then you can find out the best education for your direction.
Do you have a favourite affirmation or quote you remind yourself of when life throws you a few challenges?
I have so many quotes that are close to my heart but lately this one is currently working for me: Fall seven times, stand up eight (Japanese Proverb)
Brenda, thank you for all that you do to help inspire healthy families! Renee x