Where To Find (& Purchase) Eco-Fashion Online
Eco-fashion or 'sustainable fashion' is well, pretty fashionable right now and rightly so. It can be a somewhat ambiguous term, so if you want the low-down on what it stands for, you can find it here. In all fairness though, unless you know where to hunt for trendy threads that align with your ethos, you can end up on a fruitless fashion forage. While there are loads of admirable (read: lust-worthy) solo brands I could list, I've scrawled the internet and compiled a list of one-stop-shops where multiple eco collections are featured…making it easier for the likes of you and I to shop with a happy conscience. Bless their (organic) cotton socks.
Recent posts by Renée Leonard-Stainton
Conscious Beauty Edit for Plastic Free July
Over the past year and a half, I've been on... (read more)
Green Travel Tips - Your Guide to Eco-Friendly Travel
Thank you to New-Zealand based freelance... (read more)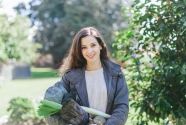 Wellness Influencer: Danijela Unkovich
I've always been impressed with nutritionist... (read more)
ASOS – 'The Green Room':
The URL for the ASOS AU Green Room is: http://www.asos.com/au/Women/Green-Room/Cat/pgecategory.aspx?cid=10062
One of the most popular fashion collectives worldwide, ASOS has recently launched their innovative section ' The Green Room' to the site, with a dedicated mission to "pioneer brands with a social and environmental ethos." The range includes clothing, accessories and beauty products from designers such as People Tree, Fin Oslo, Swedish Hasbeens and ASOS Africa.
Fashion Conscience: http://www.fashion-conscience.com/
Formed in 2007 with the sole intention of sourcing ethical clothing for stylish women with a conscience, this site is genuinely fashion forward. The founder is a former fashion and celebrity journalist for the UK's high end women's glossies.. She is unearthing some amazing new design talent from countries such as USA, Canada, Denmark, Sweden, Brazil and the UK.
Exclusive Roots: http://www.exclusiveroots.com/
Exclusive Roots is the trading name of Tabeisa, a UK registered charity that operates under fair trade principles and is committed to the social and economic development of poor communities in Africa. If you are looking for fair trade jewelry, clothes and gifts that are not only styley, but also contributing to a good cause, then check it out.
Equita: http://shopequita.com/
Equita (Italian for fairness) is a thoughtfully edited shop showcasing the finest in ethical essentials. Each fashion item is hand-selected and carefully edited to ensure a mix that is design-conscious, functional, eco-friendly, and socially conscious. They source quality products from ethical designers and Fair Trade cooperatives in over 40 developing countries, as well as Native American enterprises, women's initiatives, family farms and unionized businesses in North America. 
The team at Equita aim to make ethical living practical and accessible.
Label Gazer: http://www.labelgazer.com/
Label Gazer's goal is to shine a spotlight on the many wonderful designers of socially responsible, ethical and eco-friendly fashion,. The site gives you a snapshot of socially responsible, ethical and eco-friendly fashion in a carefully executed format. You can't actually buy directly from the site, but every item has a link to either the fashion brand's website (where you can purchase directly) or external sites where you are able to purchase items.
Enjoy letting those green mitts click their way towards sustainable style!
Live well, live long, live naturally
Renée x
*photo courtesy of eco fashion designer,  Camilla Norrback