Falling Off The Resolution Wagon? Try Yoga!
Amongst all the celebrations, many of us ring in the New Year with a list of intentions for the upcoming year. However, all too often by late January our lists have been filed away for next year with excuses such as 'I'll start once holidays are over' or 'getting back into work has been too crazy'.
Recent posts by Ginnaya Turner
Posture & Alignment - It's About Choice
It's about having choice. One of my teachers... (read more)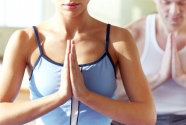 Falling Off The Resolution Wagon? Try Yoga!
Amongst all the celebrations, many of us... (read more)
This time of year always seems faster and... (read more)
Why is it so easy to fall off the resolution wagon? Perhaps because our lists usually consist of goals and tasks, things we feel we need to attain, or should do to make amends for last years disappointments. Dictated by what we think we 'should' be doing, by those around us, or the latest magazines and trends, are these goals really our own? Even though it's subconscious, it's a bit like telling a child to tidy their room. We stomp our feet, make a half hearted effort before sneaking off to do what we really want to do. 
So what is it that you truly want to do? Have? Be? If you delve a little deeper, this might be what your list looks like -
Be happier and healthier. Smile more. Be more present. Have more compassion. Know and follow your heart. Create more space in each day, more time to follow your passions. Love yourself to pieces, and do something every day to remind yourself how awesome you really are.
If your list looks like this maybe its time to try a yoga class.
Why yoga? - The practice of asana (postures) will of course tend to the physical aspects that most often get included in New Years goals. You will get fitter, stronger, more toned and generally healthier. Sure it feels great to be physically active, yet the benefits of yoga can go well beyond the physical, providing a valuable tool belt of life skills that are more about who you are being once you have rolled up your yoga mat and stepped into your day.
Love your body, love yourself – You'll be surprised at how quickly your body changes, as with each class you become stronger and more flexible. As your posture improves you feel lighter, longer and leaner (even though the scales may not have changed!). And as you progress through the postures, each class trying something you couldn't imagine doing last week or last year, you come to understand just how capable your body is. Having a strong, agile, capable body is such a freedom, it no longer matters if you're a size 8 or 14.
Make more time for the important things in life - working with your breath, you learn to slow down, pace yourself and move to your natural rhythm. You create space in your body and calm in your mind. As you release stress and bring focus and clarity to the mind, you become more present in the here-and-now. You can become more efficient as you focus completely on the task at hand, and more compassionate as you truly hear the person you're in conversation with.
How am I today? – Each time you come to your mat and turn your focus inwards, you are checking in with what you really need in that moment. Acknowledging each day is different. We can't assume that what our bodies and minds needed yesterday is going to be right for today. Be it a different pace of practice, or focusing on a particular part of the body that's screaming for attention, yoga provides the tools to know yourself better and make the appropriate choices to deliver to what you really want and need.
This is when the 'right' goals for you become obvious and the motivation to achieve them becomes available in truckloads. And you'll be amazed at how many of those 'should be' goals on your old list, which now seem so externally driven, are achieved by simply knowing and honoring who you really are!  
You don' t need to wait 'til January 1, 2014. Make just one resolution now. Try a yoga class.
Blessings,
Ginnaya x