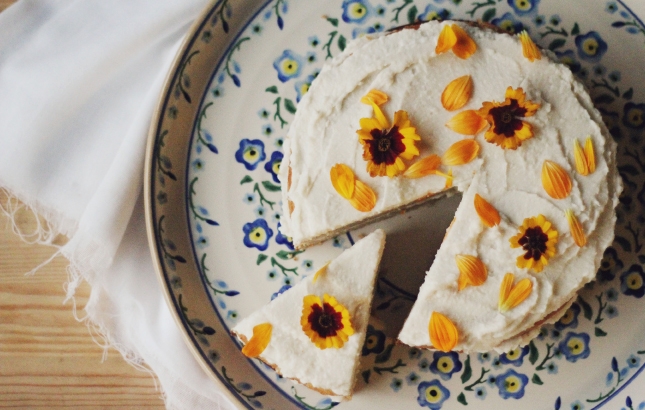 Coconut, Honey & Vanilla Bean Cake
This little honey is as dreamy as she sounds. Delicately sweetened, moist & decadently rich... Yet without refined sugar, gluten or dairy! To me, a delicious cake is always defined by it's frosting. They're usually pretty butter & sugar laden though, which, while delicious, isn't so healthy. I've been playing with ideas on how to concoct a sugar-free frosting for a while & after much trial and error, I've perfected it (I mean really, how wrong is a baking 'fail' when it involves coconut, vanilla & honey...Plenty of bowl-lickers around here!) Perfect for kid's parties, grown-up gatherings or celebrating the sweet things in life...
Method
For the cake: Preheat oven to 180C. Lightly grease an 8-inch round cake tin.

In a bowl, combine almond meal, rice flour, tapioca, baking powder & salt.

In a mixer, beat coconut oil, honey & vanilla until light & fluffy.

Add eggs one at a time, beating well after each. Pour in coconut milk & stir.

Add combined flour mixture into the wet mixture until blended.

Pour into cake tin & bake for 35 minutes, or until skewer comes out clean & cake is lightly golden on top.

Remove from the tin after about 10 minutes & let cool. Once cooled, take a long knife and slice the cake in the middle, to make two.

For the frosting: Place coconut milk, agar flakes, salt & honey in a medium size saucepan.

Cut vanilla bean in half length ways and remove seeds using the tip of a small knife. Place seeds & pod into saucepan. Whisk everything together, place over high heat & bring to a boil, whisking every minute or so.

Lower heat, cover and simmer for 15-20 minutes or until agar flakes have completely dissolved.

Mix arrowroot with water & slowly pour into coconut mixture, whisking constantly. Raise heat & continue whisking until mixture begins to boil again. Remove from heat, remove vanilla bean & stir in vanilla extract. Pour into a bowl & once it's stopped steaming place in the fridge & chill until completely set (about 2 hours).

Mixture will be hard, use a metal spoon to scoop into food processor & blend until completely smooth. Scrape down the sides & blend again.

Thickly frost the top of the bottom half of the cake. Use the remaining mixture to spread the frosting on the top of the cake.