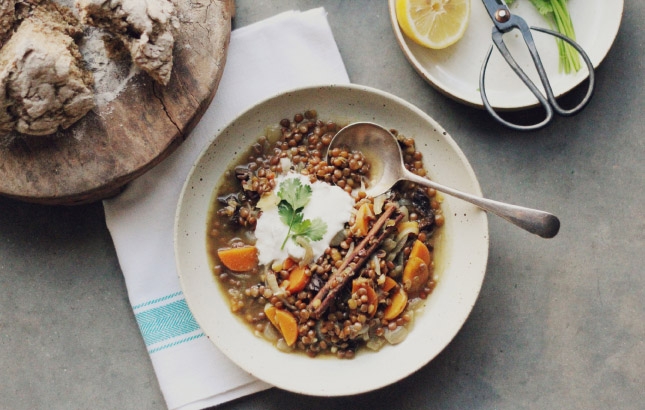 Fragrant Moroccan Vegan Lentil Soup
Oh, sweet bowl of comfort, how you warm my winter soul! Sometimes I feel a bit cheated when I slurp down a runny soup... Sure the flavours may be heavenly, but I don't necessary feel like I've had a hearty meal without having a little bit of texture to play with in my mouth. This soup is heavenly and hearty with that little bit of chunk factor that makes it oh-so-satisfying! Dried fruits add a subtle element of sweetness to this dish which pairs beautifully with the fragrant Moroccan-style spices. Trust me, your home will smell divine as you whip up this concoction. While it is vegan and gluten-free, feel free to add natural yoghurt in place of coconut yoghurt if this suits your diet, or serve with crusty bread for dippy goodness. However you choose to enjoy this soup, I hope it warms the cockles of your heart and makes perhaps a dreary winter day just that little bit sweeter. 
Method
Heat the oil in a large saucepan.

Add the carrots, garlic, onions, ginger, salt and pepper. Sauté for about 10 mins.

Add the dried fruit, spices and cinnamon sticks and apple cider vinegar. Sauté for another 5 mins.

Stir in the lentils and vegetable stock, cover and cook for about 50 mins.

Stir in some of the coriander and garnish each bowl with a sprinkling, and then swirl the yoghurt over top if desired.