Posted by Geva Maher on 7 February 2013 - 3:55pm
Image of

<

>
Childhood Obesity: Professors Talk Prevention
Recently I went to a symposium on 'Preventing Childhood Obesity' at Massey University here in Auckland, New Zealand. The focus was on nutrition from pregnancy (both Mother and baby) through to 5yrs of age and we had the pleasure of meeting professors from around the world, experts in this field. The day started with Professor Sir Peter Gluckman who is the Chief Science Advisor to the NZ Prime Minister and he shared with us the reasons why he sees nutrition during pregnancy and early childhood so important.
Recent posts by Geva Maher
6 Eco Baby 'Star Products'
With the announcement of Renée's pregnancy,... (read more)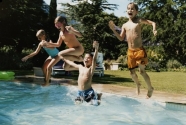 Childhood Obesity: Professors Talk Prevention
Kids in the Kitchen: Part Two
The nutritional state of the mother at conception has a huge impact on the health and nutritional foundation of her offspring. Now, with roughly 40% of pregnancies being unplanned, the nutritional state of the Mother at conception is not always going to be her 'best possible health point' so this is quite a variable. But the good news is that the food choices made in all three trimesters, combined with exercise and supplement support, play a huge role in reducing the risk of obesity for the child (and the mother postpartum).
Dr. Lisa Houghton from Otago University reminded us of the importance of folic acid pre-pregnancy and during the first trimester as well as the perhaps the more recent focus on iodine during pregnancy and while breastfeeding. With so many supplements on the market it is wise to always consult with your midwife or a nutritionist before loading up on supplemental support… and remember, we can find a lot of the nutrients we need in the foods we eat if we make smarter eating choices!
My favorite speaker was Professor Lynne Daniels who is a pediatric dietitian with over 30 years experience. She is currently Head of the School of Exercise and Nutrition Sciences at Queensland University of Technology. Professor Daniels is working on the NOURISH project which is focused on early feeding intervention to prevent childhood obesity. The NOURISH programme regularly refers back to two feeding concepts that really stuck with me; Learning to Like, Liking to Eat (encouraging learned food choices, familiarity with a food by repeated exposure) and Parent provides, Child decides (enabling exposure to foods but respecting a child's ability to self-regulate and their desire for autonomy).  The research collected through the NOURISH programme concentrates on the tactics used by parents when introducing solids to their babies and new foods to their toddlers. I would strongly recommend that if you've kept reading my post to this point, you'll find further information about the NOURISH programme and its concepts extremely interesting. More information can be found at www.heinzsight.com.au or the Queensland University of Technology website
The intervention and research programs completed in Australia and New Zealand are changing the way we address these issues and giving us hard facts to work with when trying to make changes at a policy/governmental level – let's keep up the great work!