Geva Maher
Geva Maher grew up around the business of childcare, coming from a family of teachers and childcare centre owners, so it's no surprise she has now carved out a successful place for herself in the industry. With vast international experience in childcare roles including long-term nanny positons, professional coaching and leadership roles within childrens' charities, she is now in her 'dream job' as the Auckland Manager for KiwiOz Childcare.
Recent posts by Geva Maher
6 Eco Baby 'Star Products'
With the announcement of Renée's pregnancy,... (read more)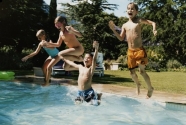 Childhood Obesity: Professors Talk Prevention
Kids in the Kitchen: Part Two
KiwiOz has offices in Auckland, Sydney, London and Brighton and places nannies, au pairs and babysitters in the homes of families worldwide. With professional training and education programs on offer for parents and nannies alike, the company aims to share the message of natural and healthy living while always respecting that each family and person has their own preferences, opinions and abilities when it comes to these topics.
Geva places a huge focus on wellness both professionally and personally and regularly attends seminars and lectures looking at ways to integrate healthy living into family life. Her blogs are packed with insights from the latest ideas and research in her field, to help you easefully introduce a little 'green' into your family life too. A self confessed fitness junkie, she has lasting love for trail running, yoga, ice skating, skiing and hiking "When I'm doing 2 hours exercise per day I sleep better, work better, eat better and feel better… and that's all the motivation I need!"
We are so lucky to have the experience and passion of the boundlessly energetic Geva in the Renée Naturally family!

geva

[at]

reneenaturally.com