Conscious Beauty Edit for Plastic Free July
Over the past year and a half, I've been on a personal crusade to reduce as my family's plastic use and consumption as much as possible. I thought we were doing fairly well with being avid recyclers and saying no to plastic bags, but my learnings over the past while have taught me that there is SO much more we could all be doing where we can. We're far from perfect in our approach but big believers that every change, however little or big that we make counts! This month is Plastic Free July and it's a great chance for us all to see how many wonderful alternative products there are out there that can assist us in reducing our plastic use single-use lifestyle. My go-to online conscious beauty and lifestyle store, 'Oh Natural' sent me some goodies as part of their monthly 'Conscious Beauty Edit' series and I've shared my thoughts on these products below...
Recent posts by Renée Leonard-Stainton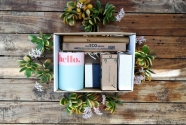 Conscious Beauty Edit for Plastic Free July
Over the past year and a half, I've been on... (read more)
Green Travel Tips - Your Guide to Eco-Friendly Travel
Thank you to New-Zealand based freelance... (read more)
Wellness Influencer: Danijela Unkovich
I've always been impressed with nutritionist... (read more)
THE HELLO CUP MENSTRUAL CUP DUAL PACK ($69.00) - I have been using a cup (Lunette) for about 6 months now and can't believe I didn't make the switch to cups earlier! While I would love to try this brand, it would be wasteful for me to stop using something that is doing the trick, so I'm going to be giving the Hello Cup to a friend who has been desperate to make the switch but is financially pretty strapped for cash. However, should I be making a cup purchase again, I would totally support this NZ company! The Hello Cup is made in New Zealand using top-notch medical grade TPE and it is fully recyclable up to the end of its life (super cool). It's also hypoallergenic, making it the best choice for those who have silicone sensitivities. The cup will last you up to 5 years, meaning it saves you money in the long run and is, of course, waaaay better for the environment. Scary to think that over our lifetime, we would use between 11,00 - 17,00 tampons or pads. That's up to 140kg of waste! Make the switch, you'll have no regrets (the only regret I have is not watching some YouTube videos on the best way to get a cup out...I obviously got there, but it would have been way smarter to learn the best technique first ha ha!)
OH NATURAL SOAP ($7.00) - I opened my Conscious Beauty Edit box and was instantly drawn to these delicious smelling soaps. I could get my nose right on in there as they are package-free - yay! They're also vegan and cruelty-free (naturally, as the Oh Natural store only stocks cruelty-free products!). The charcoal + spearmint soap has a delightfully refreshing natural fragrance and the oaty one is actually fragrance-free but has a subtle and gentle earthy smell that I adore.  I just learned that on average, liquid soaps require 5x more energy to create than bar soaps, with their packaging requiring around 20x more energy to create. Switching to bar soap is the way to go for Plastic Free July...and hopefully beyond! 
TAILOR TOWEL 2 PACK ($19.00) - I've never liked the idea of single-use make-up wipes and have just used regular ol' flannels for most of my life. However, over the last couple of nights, I have realised that these little beauties are the bee's knees. I only need to use the tiniest amount of cleanser and the revolutionary fabric and some gentle wiping does the trick for me. And my favourite part? They're black, easily washable (they dry super fast too!) and no mascara stains on my flannels! When you purchase Tailor products, you're supporting a lovely, down-to-earth Kiwi businesswoman too. Supporting local, supporting 
GO BAMBOO BIODEGRADEABLE COTTON BUDS ($5.50  - I've been buying these cotton buds since I started our 'Reduce Plastic' buzz almost two years ago. These are 100% biodegradable and have a bamboo stick. The box is also recycled paper which is a nice change from the plastic containers most cotton buds come in. So why bamboo? Bamboo can grow up to a meter a day (yes, you read that right!) needs no irrigation, and doesn't need pesticides, insecticides or fertilizers to grow well. It also releases 30% more oxygen into the atmosphere and absorbs more carbon dioxide compared to other plants. Will I continue to buy this product? You bet ya!
THE ECO BRUSH BAMBOO TOOTHBRUSH ($4.50) AND TRAVEL CASE ($15.00) - An eco-friendly alternative to conventional plastic toothbrushes. The handle is 100% compostable and so is their packaging (they share instructions on the box on how to get rid of the bristles first). I'm very excited about the bamboo travel case as on holiday, my toothbrush inevitably ends up tasting like suncream, bug repellent, and moisturiser. With around 30 million toothbrushes going into landfill in Australia each year (not sure of the NZ stats but I'm sure they're not great!), switching to a bamboo toothbrush is an obvious sustainable chouse over plastic alternatives. 
Our oceans need us all to make changes. Small plastic items make their way into our oceans every minute of every day and the amount is increasing daily. The size of the floating plastic garbage patch in the eastern north Pacific is estimated to be 5.2 times the size of New Zealand. There are over 5 of these floating garbage patches (gyres) in the world and our marine life is wildly suffering as a result. 'Plastic Free July' originally began in Australia in 2011 and there are now over 1 million participants (adn counting!) worldwide. Throughout July (and hopefully, August, September, October, November...you get the drift), we can all support each other in behaviors changes like refusing plastic shopping bags, straws, takeaway containers, coffee cups, single-use plastic water bottles, plastic toothbrushes and so much more! 
Live well, live long, live naturally 
Renee x