Renée Leonard-Stainton
As a qualified Naturopath, Nutritionist, and Western Medical Herbalist, Renée is working with a growing list of clients around the world, from her home country in New Zealand across Australasia, to the States and the Middle East. Her international natural health career has exposed her to many cultures and medicines, and she is now a sought after Naturopathic advisor for various established brands in both the retail food and health supplement categories.
Recent posts by Renée Leonard-Stainton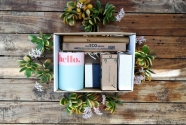 Conscious Beauty Edit for Plastic Free July
Over the past year and a half, I've been on... (read more)
Green Travel Tips - Your Guide to Eco-Friendly Travel
Thank you to New-Zealand based freelance... (read more)
Wellness Influencer: Danijela Unkovich
I've always been impressed with nutritionist... (read more)
Chronically ill from the age of 11 with a debilitating illness, Renée was bedridden for many of her teenage years while being subject to endless medical tests and specialist visits. Her eventual discovery of natural medicine saw her, in time, regain her full health and vitality. This life changing experience fuelled her desire to become a Naturopath and has seen her now help others on their journey to wellness, naturally.
A self-confessed word-junkie (a.k.a Scrabble addict), Renée's writings contribute to various magazines and websites in the health, fashion and culture categories. Aside from being the creator and editor of the 'Renée Naturally' blog, she fires out weekly articles for supermodel Miranda Kerr's 'KORA Organics' site alongside the likes of Deepak Chopra and Louise Hay.

Renée is dedicated to providing dynamic, realistic, and credible wellbeing and sustainable lifestyle info to help people on their path towards a more healthy and earth-friendly existence. She brings a balanced, first-hand approach to her posts that makes her audience feel inspired and connected to her, avoiding the 'health purist' tag, while still retaining the trust of a qualified practitioner.
renee

[at]

reneenaturally.com