Wellness Influencer: Danijela Unkovich
I've always been impressed with nutritionist Danijela Unkovich's simple, realistic approach to healthy living and her authenticity - she's the real deal and truly lovely to boot! Her super-popular, super-charged food blog Healthy Always is a great source of foodie inspiration & I have daily food envy with her vibrant, fresh-from-the-garden lunches!  Aside from consulting, Danijela also works as a community nutritionist at a care and protection facility for children and young people, where she teaches youth about good nutrition, gardening, and healthy cooking skills...So much yes! Meet Danijela, a girl most of us can relate to..."Chocolate is my ultimate soul food, while pasta is a close second and always feels like the equivalent of an internal hug"...
Recent posts by Renée Leonard-Stainton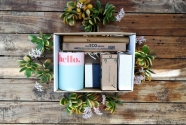 Conscious Beauty Edit for Plastic Free July
Over the past year and a half, I've been on... (read more)
Green Travel Tips - Your Guide to Eco-Friendly Travel
Thank you to New-Zealand based freelance... (read more)
Wellness Influencer: Danijela Unkovich
I've always been impressed with nutritionist... (read more)
Please tell us a little about your business, yourself and how you got to where you are now in the wellness industry…
I'm an Auckland-based nutritionist, currently working full-time across both community and clinical work. As a part of my community role, I teach gardening and healthy cooking to a group of around 50 youth, while my clinical work involves working one-on-one with individuals of all ages and health concerns. While the jobs have their similarities, both are quite different and have been great teachers. Around this, I run my health and wellness blog Healthy Always, which is a space I share wellness tips and healthy recipe ideas.
What does 'living naturally' mean to you?
Becoming more conscious and mindful of what affects our health, and then living largely in a way that will support it - whether through the foods we eat, the way we move, the cosmetic and household products we buy, or the thoughts we think.
What does a typical day in the wellness world look like for you?
I usually try and rise with a bit of wriggle room in the morning to take things slow - have a hot shower, prepare something for breakfast, get things in order, and then head out the door. Depending on my day will depend on where I am at, but often it will include nutrition consulting of some kind, usually followed by online work, whether writing meal plans or creating resources. Three times a week I'm in our community organic garden to assist with gardening lessons, which is always a highlight and a nice way to breakup desk work. In the evening I might do some blogging, or wind down with a stretch session, cooking something yummy for dinner or reading a good book.
What are your top 3 tips for staying fit and healthy?
1. Eat more greens. They're a plethora of nutrients that are wonderful for our health. Add a handful in your smoothie, or enjoy some with lunch or dinner. The more the merrier.
2. Move your body. Find an exercise you love to do, as this will help keep it regular and sustainable within your routine. So often we think we need to be doing exercise x, y or z,  but really it's a personal preference and what's most important is to just keep moving! I find exercise to be such a good way to manage stress.
3. Prioritise sleep. It's so deeply restorative and tied to how we feel and our energy levels. When we're sleep-deprived everything becomes harder.
In a nutshell, what's your food philosophy?
The foundation of my diet is centered around eating real whole foods most of the time - this means eating foods in their natural state, or as close to it. I feel best when I eat this way, it makes sense to me, and my health seems to stay pretty in check. But I also don't put any restrictions on myself - while I aim to eat this way most of the time, I eat what I want, when I want. My nutrition training makes me a little pragmatic, but I'm also a total foodie and love cooking and eating, all kinds of foods - I love chocolate, so I eat it regularly. I don't like putting foods in good/bad piles, or having any foods off-limit. I aim to eat to feel good, which usually means plenty of nutrient-dense foods, and then indulging in other foods that light me up when I feel like it. Our health is built on consistency and what we do most of the time.
What do you do to 'reset' the balance button when life gets a bit hectic?
Switch off - a lot of the work I do tends to be online and I find too much technology makes me feel a little overwhelmed and stimulated.  It's weird how naked we can feel when powering off, which just shows how prominent technology has become as a part of every-day life! Otherwise, prioritising the things that connect me with me, and I love to do.
We're all about balance around here…What's your biggest indulgence?
I love chocolate and/or a big bowl of traditional bolognese or pesto pasta. Chocolate is my ultimate soul food, while pasta is a close second and always feels like the equivalent of an internal hug.
What healthy snacks might we find on your desk or in your handbag?
Nuts, boiled eggs, and fruit are my go-to's. I don't always snack, but if I am hungry I'll usually turn to one of those options.
Can you share with us your top two pieces of advice for people wanting to start a career in the wellness industry?
Define what it is you want to do and be - the wellness umbrella is huge, and while there's plenty of room to work within it, I think it's great to define our scope and focus our learnings to get a good foundation in our approach and knowledge. I am interested in most things health and wellness-orientated but knew I'd be the most passionate about nutrition to turn it into a career.
Also - be objective with your work. Through my clinical and community work, I've been fortunate to cross paths with people on all different parts of their health journey. When it comes to offering advice, I've found it's really important to acknowledge where the individual is at, and always remember that while something may have worked for you, it won't necessarily work for them. We need to be open and understand where others are at on their health journey and acknowledge that what might seem like a small step for one can be a huge achievement for others.
Do you have a favourite affirmation or quote you remind yourself of when life throws you a few challenges?
"Yesterday I was clever, so I wanted to change the world. Today I am wise, so I am changing myself" - Rumi. A great reminder to contribute where we can, and then pause, stop and breathe when we need to.
What are your goals and aspirations for the coming year?
Just to keep following things that light me up, grow as much as possible, stay open to what others can teach me, and have fun! I happy to ride the wave for now, as it all feels right and good. I have quite an exciting project on the horizon, which I'm looking forward to sharing more about '
Thank you Danijela, I've always been so impressed with your approach and authenticity! You're the real deal and I love your work! x
Connect with Danijela...
Website http://healthyalways.co.nz/
Facebook https://www.facebook.com/healthyalwaysnz/
Instagram https://www.instagram.com/healthyalways/