Green Travel Tips - Your Guide to Eco-Friendly Travel
Thank you to New-Zealand based freelance writer, Harper Reid, who has written the following article for the blog this month. I'll be taking on board many of these tips for my travel to Hawaii* very very soon! *#pinchme #soexcited
Recent posts by Renée Leonard-Stainton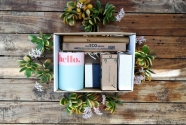 Conscious Beauty Edit for Plastic Free July
Over the past year and a half, I've been on... (read more)
Green Travel Tips - Your Guide to Eco-Friendly Travel
Thank you to New-Zealand based freelance... (read more)
Wellness Influencer: Danijela Unkovich
I've always been impressed with nutritionist... (read more)
Many travellers today tend to leave behind any sense of environmental responsibility once they leave for vacation. But you can definitely have a fun, relaxing vacation while still making responsible choices that protect the environment. Eco-friendly travel is all about being conscious of your travel behaviour and the impact it has on the local communities you visit. The more mindful you are about this, the better. Here are a few tips on how to be a more sustainable traveller.
Bring Eco-Friendly Skincare
Even when you're travelling, you should always keep up a regular, healthy skin routine. In fact, your skin may need additional nourishment and care if exposed to a sudden change of climate. However, too many people choose skincare products based on attractive packaging or brand popularity. Before packing skincare for your trip, try your best to research what specific ingredients went into the making of each product. You can help protect the environment by only using products that are ethically and sustainably made.
Support Local Businesses
Supporting the local economy is a key aspect of eco-friendly travel. By doing so, you will help the local people continue their ways of living. You can do your part to support the economy by eating at locally owned restaurants and choosing to buy products from local markets and smaller businesses. This is also a great way to get to know the locals and have a truly authentic cultural experience.
You can also help support local communities by opting for locally owned accommodation as opposed to fancy international hotel chains. Before you choose your accommodation, make sure to find out what eco-practices and services it provides – including safe waste disposal and recycling programs, energy efficient lighting and water conservation schemes. Hotels, motels, and lodging that make a conscious effort to protect the environment are helping to make a positive difference in the world.
Reduce Waste
Tourists often contribute to a huge amount of waste wherever they stay, which can be very harmful to the environment. It's crucial to be more mindful of the products you use and dispose to reduce waste and pollution as much as possible. There are plenty of easy ways you can reduce waste while travelling. The first step is to avoid using plastic as much as you can. Instead of going through a ton of plastic bottled water on your travels, simply bring your own reusable bottle that you can fill up as you go. Similarly, when you visit the local markets, make sure to take your own reusable cloth shopping bags instead of wasting plastic ones. Also, try your best to limit your use of disposable plastic straws and cutlery when you visit bars or restaurants.
Even if you're staying in an eco-friendly hotel, you should still make it a priority to keep up sustainable practices. For instance, while it's tempting to take full advantage of all the hotel amenities and services on offer, this can often lead to heavy electricity and water use. Be conscious about the amount you use, just like you would at home. Saying no to daily laundry or cleaning service is a start, as washing sheets and towels every day takes up an unnecessary amount of water and energy. To save water, keep your showers short if you can. If possible, limit the amount of air-conditioning or heating you use, and turn off lights or appliances when you finish using a room. Making these small changes will go a long way in reducing waste and protecting the environment.
Harper Reid is a freelance writer from Auckland, New Zealand who loves spending time outdoors in nature. She is passionate about discovering and adopting sustainable lifestyle choices and makes a daily effort to be more environmentally friendly. Check out more of her work on Tumblr
Image courtesy of Mindful Mermaid